| | |
| --- | --- |
| Advanced Teen Safety Driving Program | |
Event Details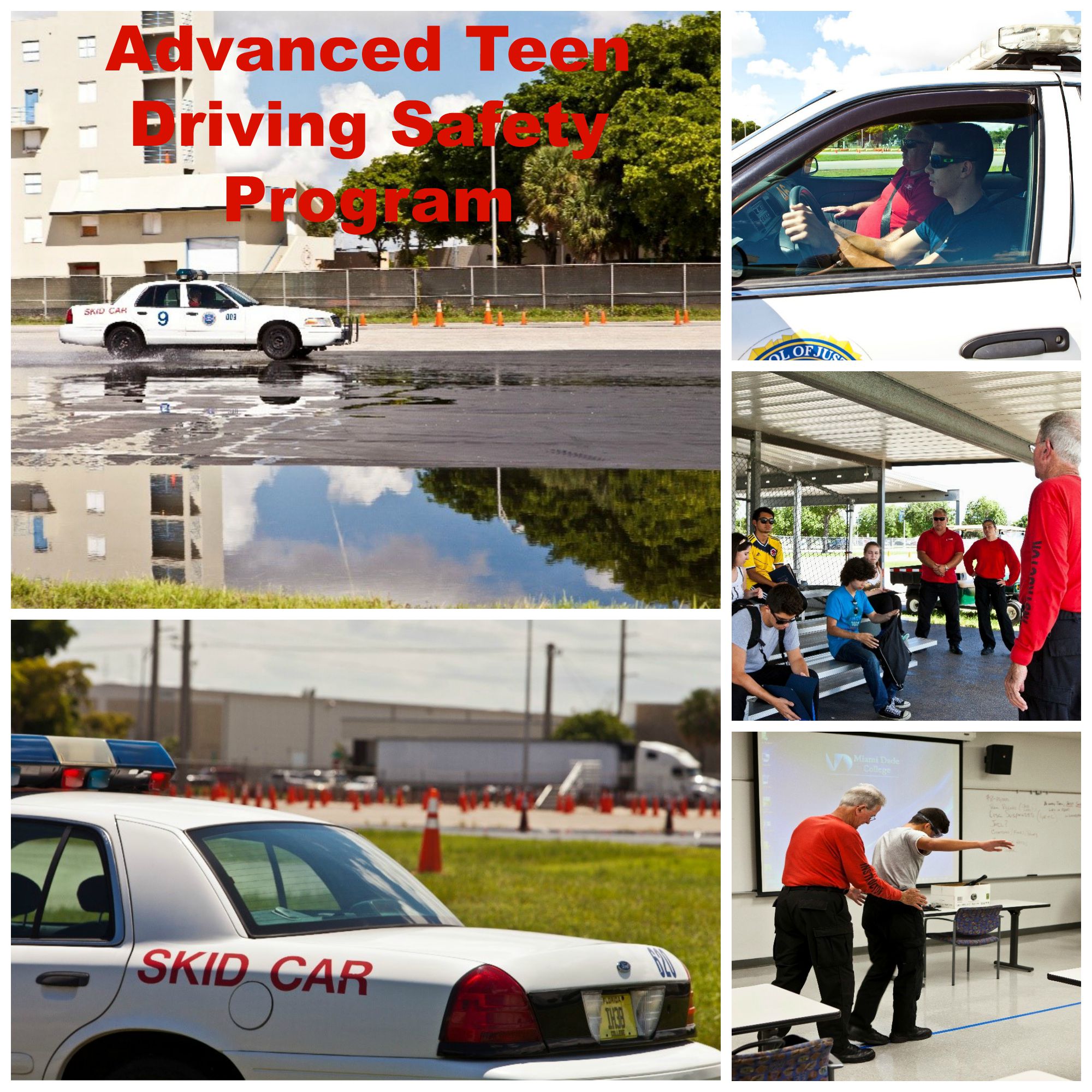 In 2010, seven (7) teenagers ages 16 to 19 died every day from motor vehicle injuries.  Per mile driven, teenage drivers ages 16 to 19 are three times more likely than drivers aged 20 and older to be in a fatal crash.  In result, car crashes are the number one killer of teens and take an average of ten (10) teen lives every day (Undefined, www.iihs.org).
The Advanced Teen Safety Driving Program* is a two-part program designed for teenagers, ages 16-21, to gain advanced skills and techniques to assist with real world driving situations and to avoid being in dangerous driving situations.
Sign up now for our next class on
Friday, July 28, 2017!
The Teen Driver Safety Program,consist of two (2) parts:
PART I: Teen High Risk Driving Environment 
Location: Miami Dade College North Campus-  Driving Range, Adjacent to Building 9
The students will participate in a classroom instruction, in which, they will learn: 
Vehicle dynamics: 

Pitch, 

Roll, 

Yaw
Psychological and psychological causes of driver stress
Impaired driving
Distracted driving 
PART II: Teen High Risk Practical Driving Experience 
Location: Miami Dade College North Campus-  Driving Range, Adjacent to Building 9
The students will participate in field instruction in which, they will learn:
| | |
| --- | --- |
| Evasive Maneuver: The ability to make a quick lane change, simulating avoiding a collision. Proper use of accelerator and steering techniques. |   |
| Braking Technique: The ability to stop the vehicle smoothly, and quickly, without losing steering control utilizing various acceptable braking techniques. |   |
| Backing Technique: The ability to back the vehicle through an exercise demonstrating control and understanding of vehicle clearance. |   |
| Forward Serpentine: The ability to steer smoothly between a series of cones demonstrating proper hand position and limited weight transfer. |   |
| Cornering Technique: The ability to corner smoothly without radical weight transfer, selecting a proper apex and using appropriate steering methods. |   |
| Skid Control Technique: The ability to regain control of a skidding vehicle, utilizing proper steering methods and use of the accelerator. |   |
*This is NOT 
a driver's education class.  Students must be licensed in the state of Florida and have prior driving experience.
(CLICK ON IMAGE TO DOWNLOAD)
STUDENT DOCUMENTS:
1. Your Eventbrite ticket registration

2. Complete Student Packet
3. Pay for the Course
Two options:
MDC North Campus Bursars Office Bldg. 1 RM 1154: $150.00 
(Cash, Credit or Money order)
OR:
ONLINE: $159.24 
For more information feel free to contact us:
Phone: 305-237-1476
Email: NAC@MDC.EDU
Where

The Assessment Center at Miami Dade College North Campus
11380 Northwest 27th Avenue
RM 8324
Miami, FL 33167


Organizer
The Assessment Center
For over 30 years, both public and private agencies have trusted The Assessment Center to test those who protect and serve. 
The Assessment Center was created in 1981 by Special Response Funds from the Law Enforcement Assistance Administration (LEAA).  Since this time, the Center has processed over 20,000 candidates for law enforcement, corrections, and fire agencies. We have assessed various levels within these agencies from entry level to the chief's level.
Since 1985, the Center has assisted city and county managers in external recruitment for agency leaders and other executive positions such as directors of corrections, finance, public works, public safety and data systems.
The Assessment Center will design a process or program to fit the unique needs of your organization for employment, promotion and personnel development decisions. 
Our approach takes into consideration the specific needs of each agency, by offering affordable, customized promotional exams, assessment centers and training programs for any size agency, ensuring to avoid the pitfalls associated with today's litigious selection and promotion environment. 
Advanced Teen Safety Driving Program