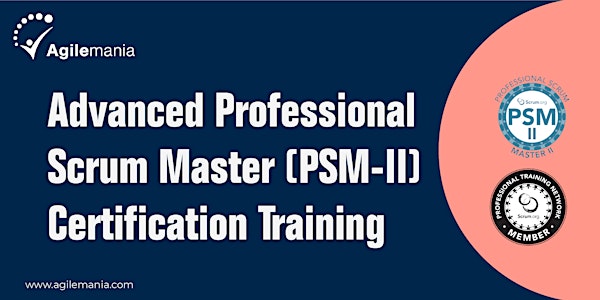 Advanced Professional Scrum Master training (PSM II) - Singapore
Product Management with Scrum + Advance Professional Scrum Master (PSM) training. It is training for anyone to learn Scrum Mastery.
By Agilemania Technologies SDN BHD
Date and time
February 24 · 7pm - February 26 · 2am PST
Refund Policy
Contact the organizer to request a refund.
About this event
Scrum is a process of continuous improvement and evolution. Scrum Masters need to keep upgrading their skills to stay relevant and on top of their game. The Professional Scrum Master IITM(PSM II) is a new credential offered by Scrum.org that is a reflection of the holder's extensive knowledge of Scrum framework.
2-day advanced scrum master training by Agilemaniahelps Scrum Masters develop new skills and enhance their existing ones. The course is specifically designed for experienced Scrum Masters who have a thorough understanding of the Scrum framework. The course teaches students about related practices and skills to enable them to have the right types of conversations and how to apply them to become better Scrum Masters.
It is particularly beneficial for those people with at least one year of Scrum Master experience. Conducted by experienced and certified instructors, this course will help you aim for a first time pass of the intensive exam and gain the skills to get ahead of the crowd.
Over the 2 days, students will learn about areas critical to growing as a successful Scrum Master such as how the principles and values of Scrum help guide Scrum Masters in the decisions they make and how the Scrum Master can help change the environment of Scrum Teams, creating an environment for agility to thrive. The Scrum Master role is complex and often, a Scrum Master must be able to apply different stances in order to be effective, such as:
The Scrum Master as a Teacher
The Scrum Master as a Coach & Mentor
The Scrum Master as a Facilitator
The Scrum Master as a Change Agent
About the organizer
We are a team of Professional Scrum Trainers (PST) and enterprise Agile coaches actively working as Scrum Trainers, Agile Coaches, Scrum Masters or Product Owners. As Agile catalysts, we offer training on Agile Essentials, Scrum Foundations, Scrum Masters, Product Owners, and Agile Leadership. A fairly diversified team, we are spread across the globe and operate in India, Singapore, Malaysia, Thailand, Indonesia, Philippines, Hong Kong, China, and The United Arab Emirates.