Advanced Power Query - Power BI from Rookie to Rock Star - Auckland Dec 2016

Thursday, December 8, 2016 from 9:00 AM to 4:30 PM (NZDT)
Event Details
What others say about the training and trainer;
Jeffrey Weir; Independent Consultant, Wellington, New Zealand
I learned a lot from this course: it gave a great overview of what's possible both right from the UI, and what more awaits if you lift the hood and pimp the engine. It's incredible to see just how much PowerBI and PowerQuery radically simplify what I would otherwise have to do with many, many lines of complicated VBA code. And Reza is a masterful user of this tool.
Note that Reza covers a lot of ground in this course, and it is pretty fast paced. While you can take a laptop and follow along as Reza takes PowerBI/Powerquery through its paces, for the one-day course my recommendation would be to keep that laptop closed, and simply sit back and watch Reza in action, so you can fully concentrate on just how simple this tool is to use in the right hands as well as think about how you might use the tool to your own ends and ask questions along those lines. You can always purchase the video course (if it's not already included in your course) and step through the material again at your own pace.
Rob Wilby; Independent Consultant, UK
I must say your "Power BI Essentials" course has been the most comprehensive Power BI course I have found to date and seeing how you work with data especially the little tricks naturally introduced at just the right moments has made this course a pleasure to take.
Martin Catherall – Data Platform MVP, PASS Regional Mentor
I attended Reza's Power BI pre-con "From Rookie to Rock star" at SQL Saturday Brisbane in May 2016. I was a complete Power BI novice, having only previously accomplished a few very basic things with Power BI. Reza took the group through all the components that make up environment. He explained how they had evolved and took the group through walk-throughs of each one. Reza was great an answering questions from the audience at the event and going into extra detail if necessary. All-in all, I would say that I'm now a very confident Power BI user after attending Reza's pre-con.
Dan Cheshire, Senior Project Manager Air New Zealand
Reza does not just know Power BI like the back of his hand, he is the most commercially aware BI person I know.  He understands that companies work in the real world and that data isn't always clean and needs manipulation for it to work and be useful.  When Reza worked on our project, nothing phased or flustered him, he always came up with solutions for problems that seemed to me as insurmountable.  Can't recommend him enough, invest in Reza as he will not only save you a whole heap of time, but he comes up with long lasting and very powerful Power BI solutions for your business.
Sonia Buckley, Data Analyst at Zoom2u, Sydney, Australia
We have started to use Microsoft Power BI and whilst Microsoft tutorials are helpful, if you are not used to DAX then it is very difficult to get your head around and there is little other resources that don't cost an arm and a leg.  I had a call with Reza who made my life so much easier in just under an hour!  Any time spent speaking to Reza will be well worth it – I have saved hours of trying to get my head around our dashboards by getting some very useful tips and explanations on why things are done the DAX way!  Not only that but he is very patient and straight forward.  Highly recommended!
Course Details:

This course is module 2 of the Power BI from Rookie to Rock Star course.

Advanced Power Query and Data Transformation

In this course, you will learn all things about Power Query, from zero to hero. You will learn Power Query from basic level with Getting data from different data sources. You will learn about different types of transformations available in Query Editor. You will also learn about M (Power Query Formula Language) in deep. Unique features such as error handling, generators, structured columns, custom functions and many other advanced level features of Power BI data transformations will be explored through handson labs and lecture. After this course you will be able to implement any types of data transformation through Power Query in Excel or Power BI.

Agenda;
Get Data

Different Data Sources
What is Power Query?
Power Query in Excel and Power BI
Basic Transformations
Get Data from Web

Query Editor

Base structures in Power Query
Query Editor in Details
Get Data from SQL Server
Get Data from CSV Files
Get Data from Excel
Get Data from JSON
Transformation Pane

Power Query Syntax

Data Types in Power Query
Query Properties
Transformation Steps
Query Operations
                                                    i.     Duplicate
                                                   ii.     Reference
Combine Queries

Merge, joining queries
Append, creating a big list
Combine Binaries; Looping through files in a folder

Transformations

Column Operations
Row Operations
Filtering
Sorting
Add as New Query/Drill Down

Table Transformations

Group By
Extending Group By
Transpose
Pivot, Unpivot

Text Transformations

Split
Merge (Concatenate)
Parse
Extract
Format

Numeric Transformations

Standard
Scientific
Statistics

More transformations

Date Transformations (year, Month, Quarter)
Extending Fiscal Date Columns
Time Transformations
Adding Time/Date banding
Structured Column
Expand
Aggregate
Add Custom Column

Power Query Formula Language: M

What is M? and the importance of learning M
M Systax
Things to consider for M
Basic examples of M
Values in M
Logical operations in M

Advanced M Scripting

#Shared key word; function library of Power Query
Parameters
Custom Functions
Error Handling in Power Query
Generators in Power Query; Loop structure
EACH singleton function

Use cases

Date Dimension with Power Query
Day Number of Year Custom Function
Looping through files in a folder with Power Query
Online Date Time Scheduler with Power Query
Instructor: Reza Rad
Our trainer is the world well-known name in the Microsoft BI field. Reza Rad is invited speaker in world's best and biggest SQL Server and BI conferences such as PASS Summits, PASS Rallys, SQLBits, TechEds, Ignites, and so on.  He is author of books on this topic, and he has more than 15 years' experience in the Microsoft BI technologies. 10 years of his experience focused on training and consulting to the largest BI teams in the world. He is also Microsoft Certified Trainer for years. He is Microsoft SQL Server MVP (Most Valuable Professional) focused on BI and Data Analysis, He has been awarded MVP from Microsoft because of his dedication and expertise in Microsoft BI technologies. He is author of Power BI online book; from Rookie to Rock Star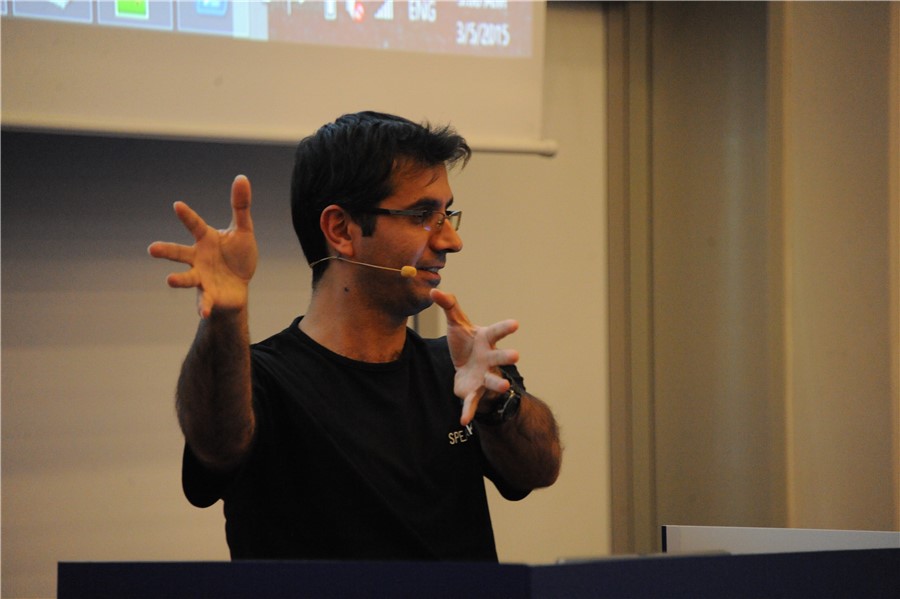 Location: Auckland CBD, New Zealand. Exact address; TBD

Cancellation:
Cancellation up to 5 weeks before the event: fully refund minus administration fee ($50) and credit-card processing fees (if applicable).
Cancellation from 5 weeks to 2 weeks before the event: 50% cancellation charge, 50% refund
Cancellation from 2 weeks before the event: 100% cancellation charge, 0% refunded.
In case that cancellation happens from RADACAD you will be offered to choose either full refund or transfer to another date.
Transfer:
Transfer fee to another event date* (up to 2 weeks before event): Transfer fee $125
Transfer fee to another event date* (from 2 weeks to 1 day before event): Transfer fee $180
Transfer fee at the day of event*: $250
*transfer can be done only once, and it can be only transferred to another date not later than 6 months from the original event.
No Show:
No fee will be refunded for no show.
Save
Save
Save
Save
Save
Save
Save
Save
Have questions about Advanced Power Query - Power BI from Rookie to Rock Star - Auckland Dec 2016?
Contact Reza Rad
When & Where

Cliftons Auckland
45 Queen street
Auckland, Auckland 1010
New Zealand

Thursday, December 8, 2016 from 9:00 AM to 4:30 PM (NZDT)
Add to my calendar