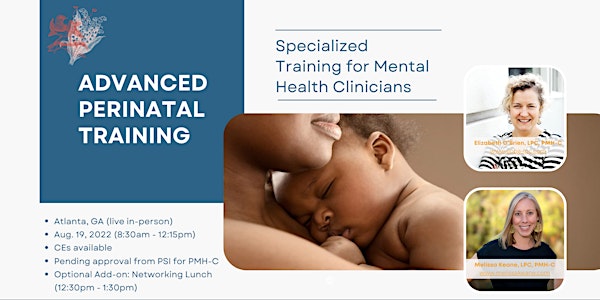 Advanced Perinatal Mental Health Training
Live in-person training opportunity for mental health professionals looking to increase knowledge and specialization for perinatal clients.
When and where
Location
1151 Sheridan Rd NE 1151 Sheridan Road Northeast Atlanta, GA 30324
Refund Policy
Contact the organizer to request a refund.
Eventbrite's fee is nonrefundable.
About this event
Overview:
This specialized training will prepare you to better support the clinical mental health needs of your pregnant and postpartum clients. The interactive format will cover important topics such as birth trauma, brain changes in motherhood, anxiety/OCD and more. Participants will leave with an increased confidence to support this population, an enhanced intervention tool box, and with tips to improve professional growth within this field.
Objectives:
Understand how approaching perintal mental health (PMH) requires a speciality lens/ training.
Learn about maternal brain changes and clinical implications.
Explore trauma in the context of PMH, via case studies including during the pandemic.
Discuss treatment considerations for anxiety, OCD/intrusive thoughts within the framework of PMH.
CEs included:
3 Core Continuing Education Clock Hours, approved by LPCA
Applied for (pending) approval by PSI for use towards PMH-C certification and renewal
Schedule:
8:30am - 9:00am: Registration & Greetings
9:00am - 12:15: Training (3 hours plus 15 min break)
12:30pm - 1:30pm: (Optional) Networking Lunch **Please note that lunch is an add-on for ticketed price and must be opted into during check-out. This is an opportunity to connect with other local PMH professionals, cost includes catered lunch.
Presented by:
Elizabeth O'Brien, LPC, PMH-C, CPCS - Elizabeth has over twenty years of clinical experience and is a recognized expert in women's well- being specializing in Perinatal Mood and Anxiety disorders. She has been a featured contributor for articles, podcasts, and an ebook, including The Washington Post and Atlanta Magazine. In 2017, she founded the Postpartum Support International Georgia Chapter (PSI-GA) where she served as president for three years, and continues to volunteer on the board. This chapter has become a national leader recognized for its fundraising, innovative training courses, and mentorship of other PSI chapters. Additionally, Elizabeth is a national trainer with Postpartum Support International, and the 2019 winner of the Carolyn Wetzel Continuum Award honoring her role as an agent for positive change for the health and wellbeing of Georgia families.
Elizabeth earned an MA in Dance Movement Therapy, where she focused on complex trauma and early childhood mental health. Elizabeth served on the Alaska Early Childhood State board as a founding board member when she lived in Fairbanks, Alaska. Committed to integrating mind and body treatment she serves women throughout their lifespans. Additionally, she consults with creatives, therapists, and female entrepreneurs both individually and in groups to help them launch their own businesses.
Prior to opening her own practice, Elizabeth worked on the rural tundra of Alaska, in hospitals, correctional facilities , and intimate partner settings. A feminist, activist, wife, mother, beekeeper, yogi, kayaker and gardener, Elizabeth is passionate about changing the mental health landscape for all mothers in Georgia.
Melissa Keane, LPC, PMH-C - Melissa Keane is a licensed professional counselor with advanced certification in perinatal mental health. Melissa provides individual and group support to women across Georgia, with a special focus on pregnancy, postpartum, and motherhood. Melissa was a founding board member of the Georgia Chapter of Postpartum Support International (PSI-GA), an organization dedicated to advocacy, education, and support for the emotional wellbeing of mothers and their families. During her time on the board, Melissa led the development and facilitation of a robust provider training program focusing on best practices for screening and referring patients for perinatal mental health challenges. Melissa currently serves as a trainer for PSI-GA and delivers presentations and workshops to providers and organizations across the state on this important topic.
Prior to becoming a therapist, Melissa had an accomplished career in marketing communications, including more than a decade of professional experience in marketing services, project development, and client relations. Her own difficult journey of becoming a mother led her to explore a second career as a mental health counselor and educator.