Description
Damage Prevent Hawaii
Presents....
Advanced Hawaii Underground Cable and Pipe Locating Seminar
Steve Nichols, our presenter from Las Vegas is the Western Area Sales and Training Manager for Radiodetection SPX USA. Steve supports damage prevention efforts throughout the United States and the West Coast, including Hawaii. Learn new locator knowledge, skills and maybe some "tricks of the trade" ...
*Steve is the 2014 Volunteer of the Year by the Colorado Damage Prevention Action Team 811.
*Door Prizes: HD TV - Amazon Echo - Lima Cloud - Starbucks..and More!
*Food:Continental Breakfast - Hot Lunch - Drinks/Coffee
*Bring Your Locator and Your Questions
2018 Seminar Talking Points:
Tips and techniques for verifying the accuracy of your underground locates.
Which frequencies are best to use in different situations.
How to isolate your target line in congested areas.
How to determine whether you have sufficient signal for locating.
How to make best use of the transmitter for accurate locating.
How to increase locate signal in difficult situations.
How to avoid common causes of of locating errors.
How to diagnose locating problems and determine the best solutions.
How to locate deeper utilities and locate longer distances.
How to conduct sweeps to reduce damages when 811 doesnt find anything.
Get $200 off on Radiodetection Kits!!!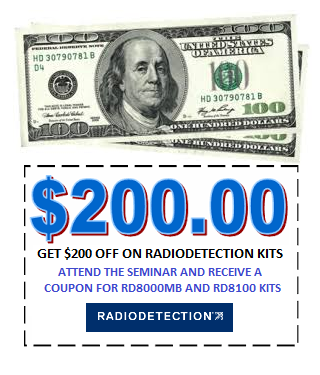 FAQs
Two Sessions Are Available:
October 23rd, 2018 (8:00 am - 2:00 pm)
OR
October 25th, 2018 (8:00 am - 2:00 pm)
Cost of Seminar?
$195 per person
$180 per person - 2nd Attendee or Multiple Attendees Per Company
How to Register?
RSVP Safe and Secure Online: https:/jotform.com/81295864172969
Parking:
Free parking. Dole Cannery's parking lot is next to Costco's parking lot and behind of Home Depot Iwilei's parking lot.
Attendees Receive:
Damage Prevent Hawaii Seminar Certificate
Food Catered By:
Ruby Tuesday Hawaii
How can I contact the organizer with any questions?
Sheryl Matsuoka - NUCA Hawaii
Email: sheryl@nuca.com
Call: (808) 531-4455