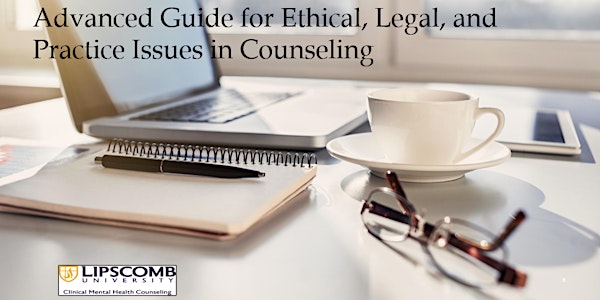 Advanced Guide for Ethical, Legal, and Practice Issues in Counseling
A guide for experienced counselors/therapists seeking advanced training in ethics, laws, licensing rules, and practice issues.
When and where
Location
Lipscomb University, The George Shinn Center 1 University Park Drive Nashville, TN 37204
Refund Policy
Contact the organizer to request a refund.
Eventbrite's fee is nonrefundable.
About this event
NOTE: 9/27/22 -- The venue has been moved to the George Shinn Center at Lipscomb University.
Advanced Guide for Ethical, Legal, and Practice Issues in Counseling
Speaker: Terry Casey, Ph.D., Licensed Psychologist, HSP (#1975 TN)
(6.0 CE hrs, in-person seminar)
Note: The number of participants for this seminar is limited. Early registration is recommended.
Experienced Clinicians
If you are a counselor or mental health professional who has been wanting to find advanced training in ethical, legal, and practice issues then this event is for you. This full-day in-person seminar is designed for experienced clinicians who are seeking training that goes beyond the basics, including clinicians who (for example) serve in director-level positions; have been in private practice for several years; provide clinical supervision or training to other professionals; are the go-to consultant in an organization or practice; have a role in developing policies and procedures; or are leaders/role models within their organization or community.
Description:
This interactive seminar covers a wide range of issues and topics designed for the advanced practice therapist. It is packed with up-to-date information about timely issues/topics, practical information, tools, links, and other resources that you can begin using immediately in your practice or organization.
Participants will leave equipped with an abundance of information, materials, and tools equivalent to what is provided at many 2-3 day training events. Examples of topics that will be addressed during the seminar and/or included in participants' materials:
Interstate compacts: The latest information
Handling subpoenas and court orders
Risk: Understand, avoid, mitigate
How to think like a licensing board
Social media: Three action points
Distance counseling/telehealth: Six keys to ethical and legal practice
Four website goldmines (that most therapists don't know about)
Practicing across state lines: The five ways to do it legally
The Supervision Triangle: An unrealized hazard
Unforeseen pitfalls in practice operations: An ounce of prevention
Minors and parents: Special ethical and legal issues
HIPAA: Covered entities and BAAs
Referral streams & revenue streams: Operational sustainability
more
Interactive groups:
Interacting with other experienced clinicians is an important component of this seminar. Through small group discussions of vignettes, participants will learn from/share with colleagues while sharpening their critical thinking and decision-making skills. The small groups also provide an excellent opportunity to make connections with other experienced professionals.
Special materials and resources:
Participants will receive a variety of special tools selected for advanced practice clinicians. Examples include:
Smartphone app for practicing across state lines (excellent & free!)
Social media and communication policy (example)
Therapist-client Agreement for intakes (example)
Handling subpoenas (flow chart)
Supervision agreement (example)
Conscientious Objection statute (with comments)
The Multiple Perspective Model step-by-step guide
Advisory censure/warning letter from a licensing board (example)
HIPAA Notice: Required document for posting in your office (example)
Parental access to children's records (HHS.gov flow chart)
HIPAA Business Associate Agreement (example)
List of strategies for avoiding problems (and otherwise maintaining your sanity)
more
Seminar speaker: 
Terry Casey, Ph.D., Licensed Psychologist, HSP (TN #1975) conducts a variety of webinars/seminars (e.g., Legal & ethical issues in distance counseling; Ethics & minors; Ethics & technology; Ethics & private practice) for counseling and mental health professionals across the country. For the past 15 years, he has taught ethical, legal, and professional issues in Lipscomb University's CACREP-accredited M.S. program in Clinical Mental Health Counseling. For nearly 20 years he served as the Clinical Director for a large counseling and psychological services organization based in Nashville. He also served for several years as the Chair of the Ethics Committee Chair for a state level professional organization. Dr. Casey operates a private practice in Franklin, Tennessee through which he provides clinical services to clients, clinical supervision, as well as consultation services to private practices and counseling/mental health-related organizations.
Learning objectives:
  Upon completion of the training participants will be able to . . .
1. Describe the interrelationships among codes of ethics, federal and state laws, and licensing regulations.
2. Identify hazards and pitfalls that are often unforeseen when operating a private practice or organization that provides counseling and related services.
3. Analyze ethical and legal aspects of technology-related topics including social media & communication policies, distance counseling, email & texting, and practice management systems.
4. Integrate multiple strategies for mitigating risk and avoiding ethical and legal problems in organizations or private practices.
5. Describe a model of ethical and legal decision-making including the five essential perspectives for navigating all ethical/legal situations.
6. Practice navigating ethically and legally challenging vignettes and determine best practice responses.
Continuing education credit: 
This seminar provides 6.0 CE hours through Lipscomb University's CAREP accredited M.S. program in Clinical Mental Health Counseling, a pre-approved provider of continuing education for the following TN license types: LCSW, LMFT, LPC & LPC/MHSP, Licensed Psychologist & LSPE, LCPT, LDAC. Continuing education rules of the various licensing boards can change without notice and there may be temporary changes during the current COVID pandemic. Always check with your licensing board to be sure about current requirements.
*COVID-19 policy: The Lipscomb University policy that is currently in effect on November 14, 2022, will apply to this seminar. The current policy may be found at:
https://www.lipscomb.edu/return-campus-plan/general-health-protocols
Registrants with COVID symptoms may get a refund (minus Eventbrite fees) up until 24 hours prior to the start of the event.
Direct questions to: Rencounselingtn@gmail.com or text 615.337.9865.
       -----------------------------      
Registration and payment: 
Click on the "Tickets" or "Registration" button above.
(Mail-in registration is not available for this event.)
Important! Attendee materials for the seminar
All registered attendees will receive seminar materials via email a few days prior to the seminar. The materials will be sent to the email address used at registration. Note that this email will be coming from Rencounselingtn@gmail.com (NOT from Eventbrite). If you have not received the materials by Friday, November 11 please (1) check your spam folder and (2) check any other email accounts you might have used to register. If you still do not find the materials email Rencounselingtn@gmail.com.
Parking
Parking on campus can at times be a challenge as there are limited spaces for visitors scattered around campus. Therefore, it is recommended that you carpool and arrive on campus early (by 7:15 or even earlier) and allow for a 5-10 minute walk to the second floor meeting rooms in the George Shinn Center (#50 on the campus map; link below).
Parking options:
1) Visitor spaces in parking garages and various locations around campus.
2) Parking lot (P) and parking garage (P2) on the map (link below). Use visitor spaces only.
2) North Parking Garage. This is a newer parking garage and may not be shown on the map (link below). It is located on the extreme north end of campus adjacent to the Fields Engineering Center (#8 on the map). Use visitor spaces only. Allow for a 10-minute walk to the George Shinn Center (#50 on the campus map; link below).
Lipscomb University Campus Map: https://www.lipscomb.edu/sites/default/files/2019-10/UMAR-19-025%20-%20Campus%20Map%20-%20WEB.pdf
Food & beverages
Coffee and water service is scheduled to begin at 7:30 a.m. in the George Shinn Center's meeting rooms on the second floor. There are several on-campus food options. The Bennett Center (#32 on the map) contains a food court that includes Starbucks (usually opens at 7:00 am), Chik-fil-a, Blue Coast Burrito, and other options. Also, the main campus dining hall is upstairs from the food court. There is also an Au Bon Pain cafe (#47) within a few feet of the Ezell Center's entrance near the bell tower (#48). The lunch break will be one hour. Some past participants have found that bringing their own lunch can be a convenient option. Going off campus for lunch is not recommended due to the time involved and the possibility of parking problems.
On-campus accommodations
Bison Inn operates as a fully functioning nine-room hotel featuring a continental breakfast and reserved parking. For more information or to reserve, please email bisoninn@lipscomb.edu or visit https://www.lipscomb.edu/about/offices-and-services/event-management/bison-inn.
How can I contact the organizer with any questions?
Email: Rencounselingtn@gmail.com 
Text: 615.337.9865
What's the refund policy?
Online registration: Refunds are available until 24 hours prior to the webinar. Note that the Eventbrite fees are not refundable. 
What is the COVID-19 related policy?
The Lipscomb University COVID-19 policy in force on the day of the seminar will apply. The link for the current Lipscomb University policy is displayed above.
Can I attend the seminar virtually (i.e., will there be a live webcast)?
TBD -- This possibility is being explored. Updates will be posted here when available.
Will a recorded version of the seminar be available at a later date?
TBD -- This possibility is being explored. Updates will be posted here when available.