Description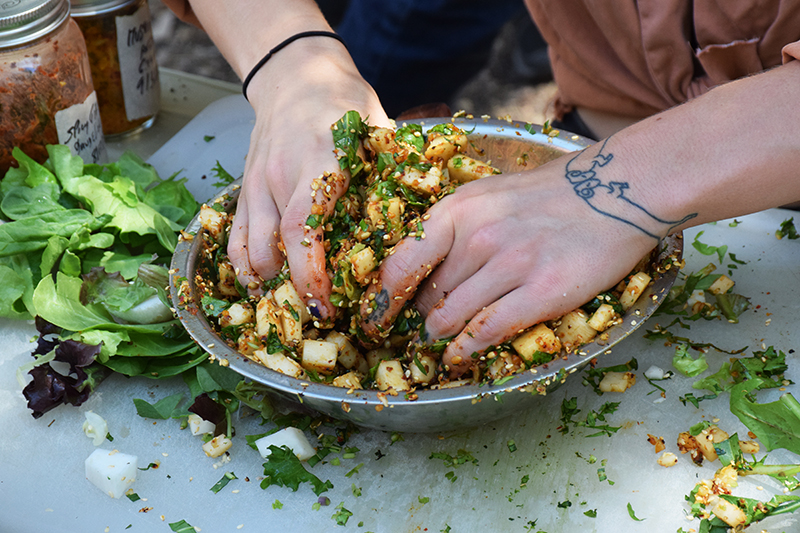 Advanced Fermentation - Pastes, Roots, Mushrooms and Creative Ferments.
(Fermentation novices welcome too)
Saturday November 17
Let's unleash our creativity and go beyond regular ferments such as sauerkrauts and kimchis. In this workshop you'll learn the techniques to make fermented tasty pastes such as dandelion harrissa or hot sauce and even look at unusual creative options such as fermenting with roots and mushrooms.
During the first part of the class, we'll go on a leisury walk and explore the local plants on the property. We'll talk about their medicinal and culinary uses, including possible fermentation. The walk is around an hour or so with lots of stops.
After the walk, we get to work. I'll demonstrate and talk about how to create fermented ingredients and condiments using wild or regular plants, how to make unusual ferments with what nature (or your local store) can provide. How to avoid mold in unusual fermentation techniques and ensure food safety.
BRING A JAR WITH YOU! (Pint or Quart Size) Everybody will get their hand dirty and each participlant will leave with a jar of their own ferment.
Long pants and hiking shoes are preferred but not a must. We have some poison oak in the area. Make sure to bring some water and sun protection too.
We meet in front of a place called Reptacular
8828 Gold Creek Rd, Sylmar, CA 91342
Look for a red Jeep Wrangler near the entrance, we park on the side of the road a bit further (Don't enter the main gate, just drive a bit further)
34°19'09.9"N 118°19'49.1"W