Advanced EPUB Formatting with Liz Castro
Description
Liz Castro, author of the acclaimed EPUB: Straight to the Point: Creating ebooks for the Apple iPad and other ereaders will explain how to expand on InDesign's export by cracking open the EPUB file and adding special features that InDesign doesn't yet support -- but that ereaders do.

While EPUB ebooks can be read in simple black and white eInk ereaders, they are also compatible with Apple's gorgeous iPad and its iBooks reader. In this workshop, you'll learn how to make books that look great in both contexts.

We'll cover both the specific details of unzipping and modifying EPUB files, as well as, the more creative design work in the XHTML and CSS that permit such features as embedded video, text wrapped around images, background colors, shapes and lines, special fonts and characters, and much more.

Your EPUBs will never look the same!
(Liz's introductory webinar on creating EPUB documents with InDesign is now available as a recording.)
This is an eSeminar
This is a recording of an eSeminar (or "webinar"), so you can watch it in your own Web browser, wherever you are, and listen over your computer's speakers. No special software is required. You'll have the option to view it as many times as you want for 30 days.
After you register, you'll receive an e-mailed receipt from EventBrite within a few minutes. Our e-mail with your custom password and URL to access the recording will follow shortly thereafter (it may take up to one or two business days). If you don't receive these emails, be sure to check your spam filter for email coming from @indesignsecrets.com and @eventbrite.com. If you can't find them, email us at seminars@indesignsecrets.com.
During the live seminar, we opened the floor to questions. However, don't worry: with your registration, we'll still attempt to answer your questions as quickly as possible via email sent to seminars@indesignsecrets.com
Any handouts that the presenter made available to attendees at the live session are also availalble to all who purchase this recording. If handouts were provided, you'll be able to download them via link shown in the recording.
The Presenter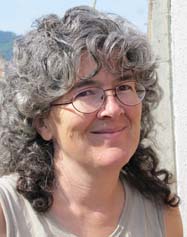 Liz Castro is the author of books about computer languages, blogging, EPUBS and web design. She's on a mission to provide step-by-step instructions for the creation of technology's challenging and popular tasks. Her most popular book, HTML, XHTML, and CSS, Sixth Edition: Visual QuickStart Guide has sold more than a million copies. Liz is the founder of Cookwood Press. She blogs about technology and her other passions at Pigs Gourds and Wikis.