Description
Would you like to learn more to enhance your current performance?
Have you tried and failed to find a high-level course that matches your present knowledge and desire to learn more?
Are you a senior public affairs professional looking increase awareness of your policy issues and raise your organisation reputation through a detailed public affairs strategy?
Do you want your organisation to increase its success rate in public recognition, policy awareness, public and political support?
Would you like to revamp your present external public affairs strategy?
Advanced Effective Public Affairs designed for Senior Managers and Public Affairs Directors
The course,
established in 2006, delivers professional guidance for those responsible for their organisation's Public Affairs agenda. It covers all the major disciplines associated with public affairs.
Public Affairs is a complex mix of a series of communication disciplines such as stakeholder management, parliamentary campaign, issue management, media planning, reputation management, social strategy
, parliamentary lobbying & advocacy and finally effective engagement with senior policy makers and decision makers.
Effective Stakeholder Management is now a core critical skill in Public Affairs:
In the age of social media activism and online media, effective stakeholder management is more important than ever.
The influence of stakeholders on your project can be immense, and if not managed correctly, could lead to loss of funding, resource draining, political intervention, or loss of support for a much required policy change.

This Advanced Effective Public Affairs course will equip you with a detailed professional guidance on how to improve the effectiveness and success of your annual public affairs plan.
In this Course, we will cover…
Devising a yearly Engagement Strategy
Communicating with policy makers - maximise effectiveness of engagement
BREXIT – devising a robust internal policy
Coping with the changing parliamentary agenda
Planning & Strategy Development – master class for success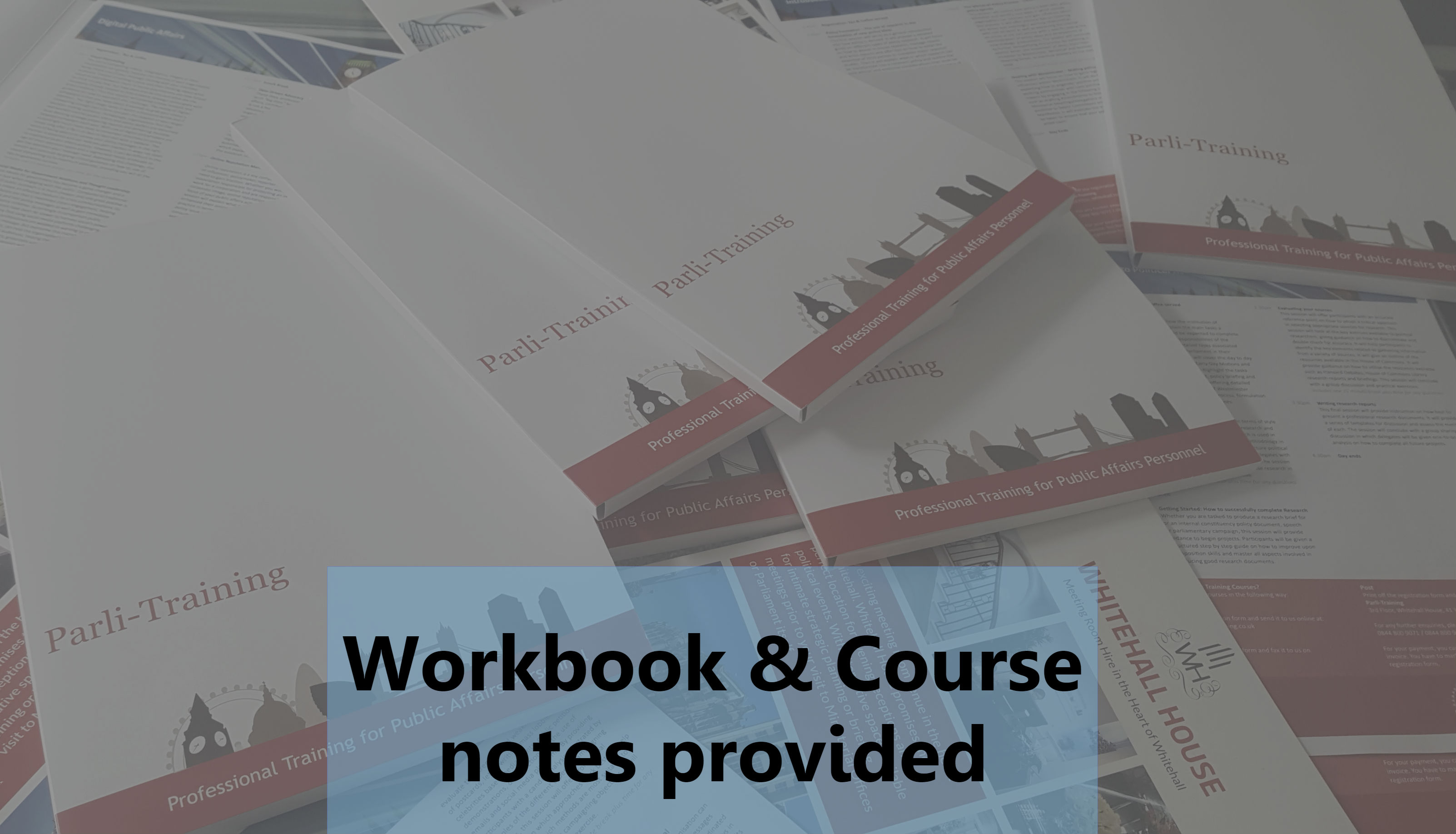 At the end of this 6-hour course made up of four distinct sessions, you will have gained new techniques to enhance public affairs performance.
This course is ideally suited for:
All Public Affairs Staff (especially, Director & Senior Managerial level)

Public Affairs Executives

Political Consultants

External Relations Executives

Senior Communication Staff

Stakeholder Engagement Staff

Corporate Communications

Government Relations

Parliamentary Staff
Course Leader:

Ben Summerskill
OBE
is the former Chief Executive of
Stonewall

. Director of the Criminal Justice Alliance, a consortium of 135 charities working across the GB criminal justice pathway and currently sits on the Board of ACAS, the Advisory Conciliation and Arbitration Service.
The trainer has had a lengthy successful career in Public Affairs spanning over 35 years' working in the field of Public Affairs; starting from junior managerial position leading up to Chief Executive level. The course is packed with professional advice, to enhance your personal development.
To improve the effectiveness of your Public Affairs Leadership,

Book for the Advanced Effective Public Affairs Course


This course is an advanced level course for senior public affairs operatives working in inhouse position in large and small organisations across the UK
Ability Level:
Advanced
– Most delegates who attend this course are of an advanced level with good background experience and knowledge of parliamentary lobbying & Public Affairs
The course will cover how to further improve performance in the following core areas:
Issue Management

Influencing senior politicians & decision makers

Revising your public affairs strategy

Universal Techniques for lobbying in a governmental environment

Negotiating policy with Ministers

Working with Backbench MP, SPADS, Senior Civil Servants

The Whitehall Policy Process

Effective Party Conference Planning

Networking – as a lobbying skill

Press Management for Public Affairs
Duration: 6 Hours
Materials:
Live Interactive Training

Course Note & booklet plus Lunch supplied to all delegates.
Lunch Provided
Bespoke Tailored courses available, contact us for more info
To find out more & book a place contact: