Advanced Diploma Certificate in Educational Management Administration and L...
Description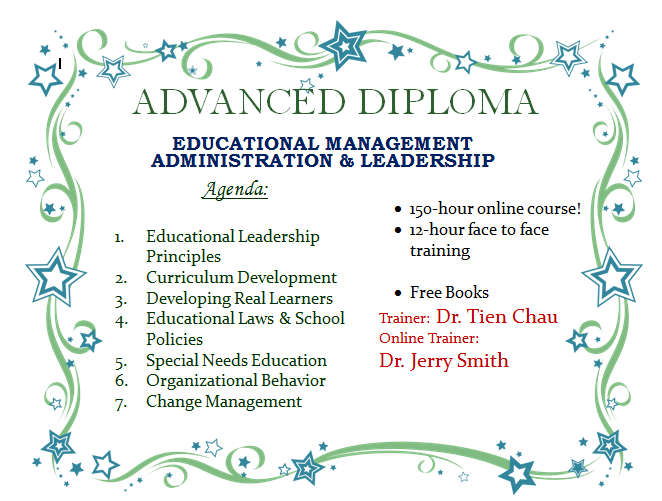 http://midwested.org ; contact@midwested.org
Enroll: https://goo.gl/forms/KEY7Q3I2ukciYnb43
---
150-Hour Advanced Diploma Certificate in Educational Management Administration and Leadership
International Accredited Teacher Professional Development Training
---
Full-day Event 966-56-383-5174
Whatsapp 971-55-782-8770
Fee: 1,800 Riyals
Group discount available.
Course: Teaching English to Speaker of Other Languages (TESOL)
Every Firday from 2:00 pm-8:00pm and Saturday from 10:00 am-4:00 pm
1. Course Information
Content Title: Advanced Diploma
Educational Management, Administration, and Leadership
Licensed by Illinois State Board of Education
International Higher Education Accreditation Board
Learning Forward Affiliation
 Course length: 12 hours
Candidates complete this face-to-face
 Fees: 1500 Riyals (Lunch included)
program can attend a Promotional Course:
 Group: 20 participants or more
150-Hours online course for additional
 Free books: 6
500 Riyals
2. Course Description:
This program aims at helping school leaders in the process of enlisting and guiding the talents and energies of teachers, learners, and parents toward achieving common educational objectives. This course includes educational management skills, administration principles, and leadership practice for school leaders.
Benefits of the program include:
- Obtain educational leadership theories and perspectives
o

Instructional leadership
o

Transformational leadership
o

Social justice leadership
- Understand School Administration Principles:
o

Demonstrate effective techniques for staff supervision and development
o

Integrate local, state, and national law
o

Directives and education policies

o

Management facilities and equipment
o

Execute financial responsibility
o

Organize instruction, students and staff
3. Training Outcomes - Program:
Participants who successfully complete the 150-hour program for the Educational Management Administration and Leadership will be awarded the Advanced Diploma (level 7).
4.

Training agenda:
Module 1: Curriculum Development
- Curriculum processes and products—role of the change process
- Developing aims, goals, objectives & outcomes
- Curriculum development in relation to school improvement
- Curriculum issues, trends and future directions
Module 2: Developing Real Learners
- Establish critical thinking skills
- Enhance student center classroom practice
Module 3: Educational Laws & School Policies
- Reviewing current national educational laws and policy
- Developing positive community of learner policies
Module 4: Special Needs Education
- Obtaining knowledge about category of disabilities
-
- Understand the value of inclusive education
Module 5: Organizational Behavior
- Micro and Macro School Behavior
- Community of Learners