Description
This is a limited ticket event and it will sell-out quickly!
There are only 25 spots avaialble. Grab your ticket today!
It's almost 2018 and it's time to finalize / hone your marketing plans for the new year and Digital Megaphone is here to help!
We've arranged to have our most popular and informative speakers lead hands on workshop sessions designed to give you the tools and tips you need to create and perfect your digital marketing plans for next year.
Bring your laptops and notepads, each session will provide the opportunity for you to work and create your plans.
Agenda
Noon - 12:30 Registration
12:30 - 1:50 - Content Hub Content Planning Sue Koch
1:50 - 2:00 - Break
2:00 - 3:25 - Google Analytics - Andy Crestodina
3:25 - 3:30 - Break
3:30 - 4:10 - 13 Ways to optimize your Instagram Marketing - Adam Bianco
4:10 - 4:15 - Break
4:15 - 5:00 - Facebook Advertising set-up - Adam Bianco
Sessions Include*
Create a Hub Based Content Strategy - You'll learn the power of using content hubs to create or enhance your content strategy. Then leverage the power of the crowd as the group helps brainstorm content ideas for each other.
Instagram Expert Hacking Tips - Adam Bianco, CMO, Tide Spin will share 13 tips you can use right away to help grow your business using Instagram! Tips will include both paid and organic options.
Facebook Paid Ad Intensive - Adam Bianco, CMO, Tide Spin
The days of organic reach on FB are over. Adam Bianco, CMO of Tide Spin will show you how to create FB Ads that move the needle and drive traffic and conversion! Bring your ideas for a campaign so you can create a new ad on the spot!
Advanced Content Marketing and SEO: Higher Rankings and More Traffic in Less Time through Delegation and Repurposing
You've been at this content thing for a while and you're busier than ever. But your traffic is stuck at the same levels. You're working more for the same results you got last year.
It's time to adapt. To go beyond the basics. To take a more advanced approach to your content. We're going to teach you to get more traffic in less time.


Turn your day-to-day email communication into high ranking articles

Delegate using tools, outsourcing and virtual assistants

Collaborate with your sales prospects and referral partners

Get your older content to rank like champions

Find the pages on your site that are already ready to rank
This presentation is really for marketers with 5+ years of content marketing experience. But beginners will get value too. If you know where you're going, you'll get there faste
Event Host
Coalition is a brand of coworking spaces in New York, Boston, and Chicago. We are constantly looking for individuals and companies striving to make the world a better place to join our community. Simply put, we want to support your mission by offering various kinds of space so you can focus, collaborate, and get important work done! Whether it's a desk, private office, conference room, or event space – we aim to provide environments to fuel passion and launch groundbreaking ideas. www.coalitionimpact.com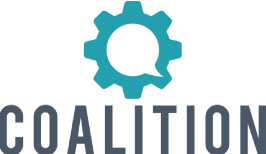 Organizer of Advanced Digital Marketing - Content Hubs, Advanced SEO, FB ads and Instagram
Digital Megaphone creates high-energy, educational and interactive events that connect and educate marketers and social influencers.  
The Social Media Masters Summit was created by and is run by Digital Megaphone, one of the largest and well respected social media events businesses in Chicago.  As one of the premier social media events in Chicago, the Summit focus on cutting edge social media strategies from top brand marketers. It's a power packed day of best practice Social Media and Digital Marketing case studies that go beyond typical tactics, paving the way for a new way of thinking.
Check out our website for more information: http://www.digitalmegaphone.com