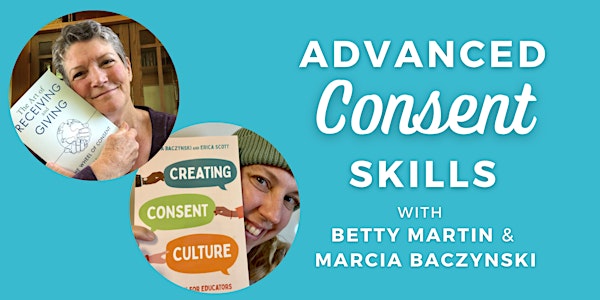 Advanced Consent Skills with Betty Martin and Marcia Baczynski
Practical, useful tools and embodied skills for creating consent in the real world
When and where
Location
Encinitas Private Venue Encinitas, CA 92024
Refund Policy
Contact the organizer to request a refund.
Eventbrite's fee is nonrefundable.
About this event
For years, Marcia Baczynski and Betty Martin have been colleagues and friends, teaching consent first through their joint work with Cuddle Party, and cheering each other on in the development of their own work — Betty's Wheel of Consent, and Marcia's Asking for What You Want.
Now Betty and Marcia have a rare opportunity to teach together, joining forces for an 8-hour workshop exploring the nuances of consent, as two of the foremost experts in the field.
Using a combination of embodied practice, fun games, discussion and Q&A, this workshop promises to be powerful, playful and full of insight and laughter.
With a focus on your internal, embodied experience and with an eye toward sharing these skills with others in your life, we will explore:
How building a culture of consent fosters more joy, play and pleasure in your relationships and your community
Expansion beyond the incomplete and outdated "Gatekeeper" model of consent into a fuller, more useful definition of consent
The difference between your boundaries and your limits (and how to leverage this for more pleasure and deeper explorations)
Why we don't ask, what we do instead, and how this is a clue about what you really want
How "I only want it if the other person does too" undermines relationships and keeps you from getting what you want — and the transformative concept that changes this!
Practices of Giving and Receiving that clarify who an action is for — and are really fun!
The difference between what you like and what you want (and why that matters)
Understanding the Freeze and Fawn trauma responses and how these common responses shape consent
What to do (individually and collectively) when a consent violation occurs, to rebuild connections and create healing
Games you can play with lovers, friends and family members to make building consent skills fun!
And lots more!
Consent skills are really skills for better relationships, better communities and better sex. Bring your curiosity, your questions and your friends, and join Betty and Marcia for an exceptional day of learning, laughter and discovery.
This workshop is perfect for:
Deepening consent skills in your own life and relationships
Parents, teachers and other adults supporting young people in learning consent skills
Community organizers and event producers fostering healthy consent practices among your people
Consent educators seeking to expand their repertoire
This event is for participants over the age of 18. There will be some discussion of sexual content, but no nudity or sexual activity at this event. There will be an option to take part in some touch-based exercises, but no obligation to participate.
Wear comfortable clothes that allow for movement. We will offer snacks during the workshop. Please bring your lunch. There will be insufficient time to leave the workshop to purchase food during the break time. See below for the Covid policy.
About the Presenters:
Betty Martin and Marcia Baczynski have been consent educators, friends and colleagues for over 16 years. The past year has seen the publication of each of their books:
Marcia's Creating Consent Culture simply and clearly describes what consent is, including clarifying some misconceptions, and outlines a 3 hour workshop for youth and teens. Co-authored with Erica Scott.
www.creatingconsentculture.com
ISBN # 978-1839971020
Betty's The Art of Receiving and Giving: the Wheel of Consent re-defines receiving and giving and shows you how to fall in love with both of them, completely and equally. The Wheel of Consent has been called the most important and cutting-edge model for these times.
www.wheelofconsentbook.com
ISBN # 978-1-64388-308-3
Covid policy:
We recognize that the pandemic situation varies by locale and rapidly changes. We will be tracking and following recommended health guidelines for each location. Proof of vaccination is not required. We will rely on testing to minimize our exposure risk. Our intention is to not require masks during the workshop, based on everyone having a negative test. Participants are always welcome to wear masks based on their comfort level.
We require:
1) A rapid test taken on-site the day of class. We will have tests on-site available for purchase or you may bring a test and take it upon arrival at the workshop.
2) We recommend that you do not eat in restaurants during the workshop, but rather bring your own food and eat at the workshop space.
3) Agreement to be in contact with your instructors if you develop COVID symptoms during or shortly after the class. This information will be shared with other participants so they can make appropriate decisions for themselves.
Participants who develop COVID symptoms or test positive for COVID before the start of the class or during the class will be offered a full refund (minus a $25 processing fee) or rescheduled to a future class.
Also remember that if you are crossing international borders to attend, you may have some requirements to tend to for that.