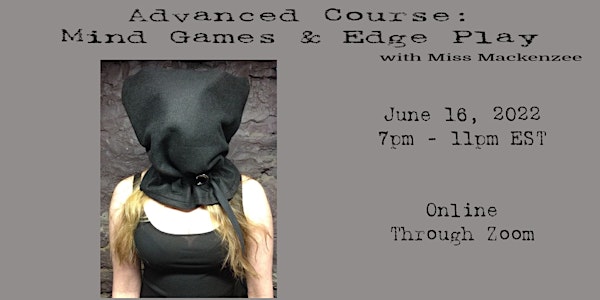 Advanced Class: Mind Games & Edgeplay
This 4 hour advanced workshop is perfect as we work from light and playful to more extreme types of edge play.
Date and time
Thursday, June 16, 2022 · 4 - 8pm PDT
Refund Policy
Contact the organizer to request a refund.
Eventbrite's fee is nonrefundable.
About this event
The physical side of play is fun of course, but it doesn't hold a candle to the countless experiences that can be crafted using words and sometimes even the slightest of actions. In fact, if you can fully get inside your bottom's head, you don't really need to play with their body at all.
The same feelings that come along with watching a horror movie like fear, excitement and antici...pation are some of the elements you need for a successful mind game. Instilling uncertainty is an art form. There is a certain kind of rush and exhilaration you can achieve when you twist reality, consensually. In this workshop you will learn how and why negotiations with a focus on active consent are so important when it comes to mind play. Several other topics that will be covered are:
Learning to balance between an intense headspace while still maintaining care as a Dominant/Top
Ways to ground the bottom to bring them back and what to do if something goes wrong
Erotic asphyxiation
Hear from a bottom's perspective regarding safety and preparing themselves for a mindfucks and/or edgeplay scene
Special considerations to make regarding aftercare and drop
How to avoid triggers and how to play with them as safe as possible
Exciting demos!
And more
About the presenter:
Miss Mackenzee is a Professional and lifestyle Dominatrix, Certified Erotic Hypnotist, Sexual Wellness Coach, as well as an International BDSM and Sex Educator. She has been involved in the kink lifestyle for 19 years. Miss Mackenzee is one of the hosts for the Kink, Intimacy, and Cannabis Lounge podcast and has also appeared as a guest on numerous other podcasts to share her wealth of knowledge on various topics. Mindfulness is a practice that she incorporates not only into her play but her everyday life and enjoys helping others become more in tune with themselves and their partner(s). She teaches a full range of subjects including but not limited to energy/Tantra, bondage, power exchange, hypnosis, sexuality, and the art of sadism.
Miss Mackenzee is highly sought after for private lessons with individuals and couples as well as presenting at conventions and graduate programs at major universities. She has brought her experiences and skills to various organizations such as Kink.com, Widener University, TES, SF Citadel, Dark Odyssey, Celebrity Cruiseline, VoxBody Studio, Wicked Grounds, Black Thorn/Sacred Muse, SINergy, Kinky Kollege, Bound In Boston, Adventures in Sexuality, ROPECRAFT, Weekend of Wickedness, Purple Passion, Rochester Erotic Arts Festival, Sexploratorium, EXXXotica, and many others.
She prides herself on creating a fostering environment that is safe from societal judgments for people to explore their kinks and sexuality. Each and every workshop is taught with passion and includes intentional energy as she feels it is essential to building a connection to not only her bottom but the participants in her classes. She welcomes people to be free and honest with themselves and their desires.
She invites you to interact with her:
PLEASE READ:
THIS IS AN ONLINE EVENT. This workshop will take place in the privacy of your own home, from your personal computer, tablet or smartphone.
You must be 18+
Please log in on time.
All sales are final.
Notes for Zoom:
A link to join the Zoom meeting will be sent via the email you registered with.
Please download Zoom immediately to your computer, smartphone or tablet once you receive the link.
This will save you time and also ensure that you will be able to join the class on time.
About the organizer
The Kink, Intimacy, and Cannabis Lounge is excited to bring you quality workshops presented by educators all around the globe. We believe in the importance of sharing information so you are able to enjoy all the pleasures that life has to offer.
Contact: kicloungepodcast@gmail.com