Sales Have Ended
Ticket sales have ended
We are sorry but registration for this course has ended. Please have a look at our ongoing courses or contact training@agile21.com
Sales Have Ended
Ticket sales have ended
We are sorry but registration for this course has ended. Please have a look at our ongoing courses or contact training@agile21.com
Description
Overview
You're a Certified ScrumMaster® (CSM®), who's been introduced to the Scrum Values, practices, and applications. The next step in your Agile journey is to achieve your Advanced Certified ScrumMaster (A-CSM℠) certification.
Through the A-CSM, you'll learn to:
Facilitate better dialogue between the Product Owner, Scrum Team members, customers, stakeholders, and executives

Respond confidently when encountering resistance to change, lack of engagement, low motivation, and unavailability of key people

Increase engagement to encourage greater accountability, commitment, and buy-in

Scale Scrum and Agile beyond a single team

Benefits
Build on your foundational knowledge with enhanced implementation skills

Distinguish yourself in the global marketplace

Stand out in your industry as a member of the globally recognized Scrum Alliance community

Show advanced value to your employer (or potential employer) as a highly trained Agile professional

Scope
Scrum Alliance has adopted the Scrum Guide, The Definitive Guide to Scrum: The Rules of the Game, co-authored and updated (most recently in 2017) by the co-creators of the Scrum framework as the guiding curriculum for this offering. A-CSM® candidates are expected to build a body of knowledge of the Scrum framework, including its roles, events, and artifacts. Incorporating Scrum principles and practices takes diligence, patience, and a commitment to continuous improvement. Scrum is a framework, not
a prescriptive methodology.
Students attending in an Advanced CSM offering should expect that each Learning Objective identified in this document will be covered. The A-CSM Learning Objectives fall into the following categories:

1. Lean, Agile, and Scrum
2. Scrum Master Core Competencies
3. Service to the Development Team
4. Service to the Product Owner
5. Service to the Organization
6. Scrum Mastery

Learning Objectives
1. Lean, Agile, and Scrum
1.1 Agile and Lean Values, Principles, and Worldview
1.2 Empirical Process Control
2. Scrum Master Core Competencies
2.1 Facilitation
2.2 Coaching
2.3 Training
3. Service to the Development Team
3.1 Self-Organization
3.2 Team Dynamics
3.3 Definition of "Done"
3.4 Value of Development Practices

4. Service to the Product Owner
4.1 Coaching the Product Owner
5. Service to the Organization
5.1 Resolving Impediments
5.2 Scaling Scrum
5.3 Organizational Change
6. Scrum Mastery
6.1 Personal Development
6.2 Servant-Leadership
2020 A-CSM Full Learning Objectives


Requirements
Hold a Certified ScrumMaster (CSM) certification with the Scrum Alliance.

Attend a certified A-CSM educational offering to gain techniques and skills that go beyond the basics and mechanics of Scrum, expanding into interaction, facilitation, coaching, and team dynamics.

Successfully complete all educator-designed components of an approved educational offering. This may include pre- or post-course work as deemed necessary by your approved educator to complete the learning objectives.

Accept the A-CSM License Agreement and complete your Scrum Alliance membership profile.

Validate at least 12 months of work experience specific to the role of Scrum Master (within the past five years).

Maintain your A-CSM by earning Scrum Education Units® (SEUs) and renewing your certification every two years. Learn more
NOTE: You may take the A-CSM course at any time after completing your CSM certification, and must have at least 12 months of Scrum Master experience logged into your Scrum Alliance profile before you are eligible to receive your A-CSM certification.

Meet the Trainer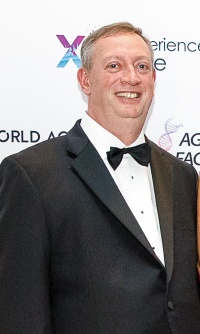 Iain is an award winning trainer, coach and practitioner who has successfully used Scrum together with other agile and lean frameworks over a number of years both in project recovery and greenfield projects. Iain has also been extremely successful in helping many organisations adopt or improve their use of Scrum including United Health, BBC, Cisco and BSkyB.
Having worked with IT for over 35 years, Iain has a wealth of experience ranging from operations, analysis, testing, software engineering, project and programme management through to IT Leadership. Iain has also been a customer and user of many software products over the years. This breadth of experience helps Iain to work with teams to build high quality products that meet the needs of all stakeholders, often exceeding expectations through innovation and focus on value and eliminating waste.

FAQ
What do I wear?
Wear what makes you feel comfortable while trying not to make others uncomfortable. We will be in jeans and golf shirts.
Will food be provided?
Yes, coffee breaks and lunch will be provided.
Are there ID or minimum age requirements to enter the event?
The course is open to anyone age 18 and up.
Do I need to bring a computer to the event?
No. Personal computers are not necessary. All course material will be provided.
How can I contact the organizer with any questions?
Use pttraining@radtacportugal.com
What's the refund policy?
No refunds. If this is a concern, please contact us.
Can the course be postponed/cancelled?
We reserve the right to postpone or cancel this course if there are insufficient registrations. If this is the case, you will be notified between 3 and 5 working days before the course start date. In this case, you will be offered an alternative date or a full refund. We will not be responsible for any other costs incurred.
Are there discounts for groups?
Yes, if you have a group contact us for a discount.
All trademarks mentioned are the property of their respective owners.
Organizer of Advanced Certified ScrumMaster® (A-CSM®) certification