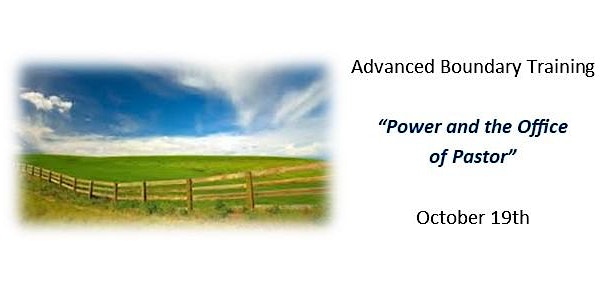 Advanced Boundary Training - Power and the office of the Pastor
A 3-hour advanced boundary training about power and the office of the Pastor.
By Pennsylvania Southeast Conference UCC
Date and time
Wednesday, October 19, 2022 · 6 - 9am PDT
Refund Policy
Contact the organizer to request a refund.
Eventbrite's fee is nonrefundable.
About this event
Power and the Pastoral Office
Drawing from writings of Karen Lebacqz and Richard Gula, we will explore some of the aspects of the professional power that comes with the pastoral office. The power that pastors have is often understated and misunderstood. Some of you may remember this example from FaithTrust Institute and Margaret Atwood.
 She unlocks her office door, then locks it behind her to disguise the fact that she's in there. It's not her office hours but the students take advantage. They can smell her out, like sniffer dogs; they'll seize any opportunity to suck up to her or whine, or attempt to impress her, or foist upon her their version of sulky defiance. I'm just a human being, Tony wants to say to them. But of course she isn't. She's a human being with power. There isn't much of it, but its power all the same." Robber Bride, Margaret Atwood
Like that of a professor and student, the pastoral relationship is one of unequal power between minister and congregant. Unequal power does not necessarily indicate abuse, but it is something for us to consider with some regularity and intentionality. Come out for conversation and learning together.
Facilitator: Rev. Nora Faust
When you register, you give your permission to use photos of you or your children for purposes of telling the story of the Pennsylvania Southeast Conference on the website or in video, newsletter and social media posts. If you are opposed to having your picture taken and possibly used in this way, please let us know by contacting the PSEC office at: susan@psec.org including your name (and/or names of your children) and your email and phone contact information.
About the organizer
Pennsylvania Southeast Conference is the United Church of Christ (UCC) in southeastern Pennsylvania. We are 159 congregations, open and welcoming to all people, with an extravagant welcome for you! Although our faith is 2,000 years old, our thinking is not. We are a church committed to justice, equality, healing, and peace... a church where 'God is still speaking'! So, no matter who you are, or where you are on life's journey, you are welcome here!