Description
We are donating $100 per attendee to Houston ISD
in our upcoming biomedical seminar in support of Houston schools.
Have you ever wondered how simulation is currently used in the life science industry to advance medical device design and development?
VIAS cordially invites you to participate in our half day Advanced Biomedical Simulation Seminar at the Texas Medical Center in Houston. Our seminar will feature presentations from leaders in the biomedical engineering field.
Our partner Abaqus SIMULIA provides a simulation platform for medical devices, stents, heart assist devices, tissue modeling, drug delivery equipment and orthopedics.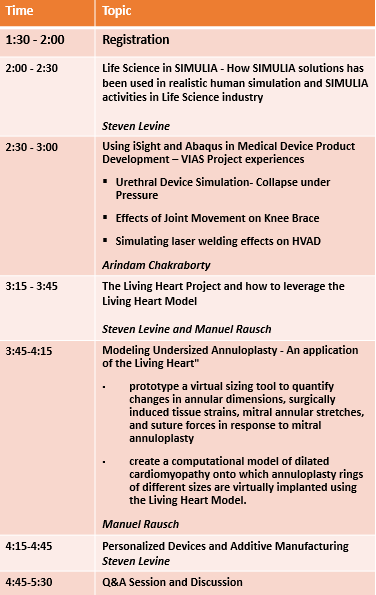 Presenters
Steven Levine
SIMULIA
Sr. Director of Product Strategy and the Executive Director of the Living Heart Project at Dassault Systèmes SIMULIA. Since 2006, Steve has been responsible for driving the SIMULIA strategy towards its vision of enabling simulation to help harmonize Product, Nature and Life.. Steve holds a Ph.D. in Materials Science and Engineering from Rutgers University and has been elected into the American Institute for Medical and Biological Engineering (AIMBE)'s College of Fellows.
Manuel Rausch

University of Texas
Originally from Germany, Dr. Rausch earned his PhD from Stanford University in 2013 before taking on the role of Director of R&D at a small medical device company. After a two year stint in industry, Dr. Rausch returned to academia as a post-doctoral fellow at Yale University. As of 2017, Dr. Rausch is an assistant professor at University of Texas, Austin's Department of Aerospace Engineering & Engineering Mechanics.Dr. Rausch's research interests are focused on soft tissue biomechanics. He uses experimental as well as computational tools to characterize and understand the mechanical behavior of biological soft tissues such as myocardium, vascular soft tissue, heart valve tissue, and skin to improve diagnostic and therapeutic methods, and medical device design.
Arindam Chakraborty
VIAS Corp
Mechanical engineer with more than nine years of strong academic and consulting experience in solid mechanics and design, non-linear FEA, fatigue and fracture mechanics, reliability analysis, composite structures in Oil & Gas, Nuclear and Structural Design. Has a strong background in project management, business development, strategy development and technology development, with a strong focus on public safety regulations. Areas of expertise include:
•Solid Mechanics & Design
•Non-linear Finite Element Analysis using ABAQUS
•Structural Analysis and Fracture Mechanics Component Reliability and Optimization
•Analysis of Composite Structures
Date and Time
Location
Texas Medical Center Innovation Institute
John P. McGovern Campus
2450 Holcombe Blvd., Suite X
Houston, Texas 77021