Description
ADVANCED AFFILIATE MANAGER ACADEMY
With over two decades of affiliate marketing expertise - growing global affiliate programs & helping new brands enter the market - we know the exact strategies that can help your affiliate program grow.
Our 1-day Advanced Affiliate Marketing course is specifically for Affiliate Managers who want to scale up and grow your program performance.
Learn exactly HOW to launch, grow and build successful affiliate relationships & create clear marketing strategies to grow your program & affiliate reach.
Discover the proven negotiation tactics that help you build successful & profitable commercial relationships, to drive month-on-month revenue & increase profitability in your business.
And this is NOT just theory! We help you understand how to implement everything into your business, for measurable success.
In small, focused groups, you'll receive tailored training and individual support – including a personal 1:1 call 90 days after your course – to ensure you leave with a clear plan for revenue growth.
You'll get insights, strategic development with proven tools and tips & the 1:1 support you need, to increase your affiliate program reach.
---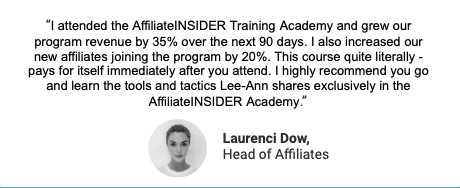 Your Advanced Affiliate Management Training includes:
The affiliate ecosystem and how it sits alongside your digital marketing strategy;
What affiliate marketing can & can't achieve for your business;
Roles of operator, affiliate, network, agency and affiliate manager - and how they should engage;
Creating a clear program and marketing strategy;
Perfecting your program sales pitch;
Affiliate segmentation and active portfolio management tactics;
Setting objectives, budgeting and building successful commercial negotiations;
Data analysis & KPI management, to help your program scale;
A guide to productivity management for your affiliate program and team;
How to negotiate real estate, based on data driven decisions ;
Compliance and due diligence - ensuring best practice program management;
And understanding how your program T&Cs protect your profit margins.
For full details, click here now for the 2020 Training Academy prospectus.
Save 10% on multiple delegate bookings from the same company – and payment plans may be available for individual bookings.
Book your place now or email sales@affiliateinsider.com with any questions, to talk about payment options or if you'd prefer to pay by invoice!