Description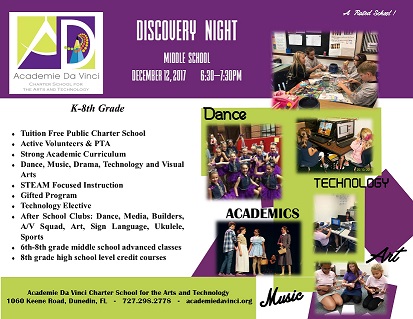 You are invited to our Middle School Discovery Night to be held on Tuesday December 12 from 6:30-7:30 pm in the north building of Academie Da Vinci.
This will be a highly engaging fun event to include rotations with the middle school teachers and presentations by our Technology, Art, Music and Dance students !
In previous years this has been a very popular well-attended event. Please mark your calendar now to learn all about our middle school – classes, expectations, events and opportunities for high school credit!
ADV is a small school AND we want the Discovery Night to be an excellent experience for all, therefore, we must limit attendance to 150 guests. 3 Tickets per family. Attendance is free of course ! We do need to know how many to expect so we can organize the rotations to the classrooms effectively. We'll see you there.