Adulting SUCKS! This is why you don't want to miss this Virtual Summit for Millennials, College Students, and Young Professionals
About this event
MOST Young Leaders Don't Have the Tool They need to advance their Personal and Professional Lives.
So many young people waste time wandering through life aimlessly which results in frustration, overwhelm, and anxiety.
But what if in just 2-days you could have the tools needed to improve your current skills, make relevant connections, and get clarity to move to the next step in your life?
That's exactly why we created the Adulting In My Purpose Virtual Summit.
Adulting can be frustrating and overwhelming, but it doesn't have to be. At this summit, you will learn to find a balance between the personal and the professional aspects of adulthood and live a life in and on purpose. Join us on August 14th and 15th to learn more about how to navigate the world as a young adult.
Attendees will receive:
• 2-days (8 hours) of knowledge from expert speakers
• Access to the event virtual lounge
• Access to the event virtual speed networking session
• Fascinating discussions on Mental Health, Physical Wellness, Fashion, Socialization, Relationships, Financial Stewardship and Financial Freedom, Finding Purpose, AND MORE
• Event chat
• Q&A
• Giveaways and MORE!
See speaker roster for details
Here's what you need to do:
Register Now
Register for the Adulting In My Purpose Summit. Don't miss your chance to be a part of this event.
Attend the Virtual Summit
Get your laptop and notebooks ready. Tune in virtually August 14th and 15th, 2021 and get ready to make connections, learn new skills from industry professionals, and get inspired to take the next step in your life.
Take your next step
The skills you learn and the connections you make can last long after this summit. Take massive action on the revelation knowledge you receive. Don't procrastinate. Become a person Adulting In My Purpose!
Register to secure Your Spot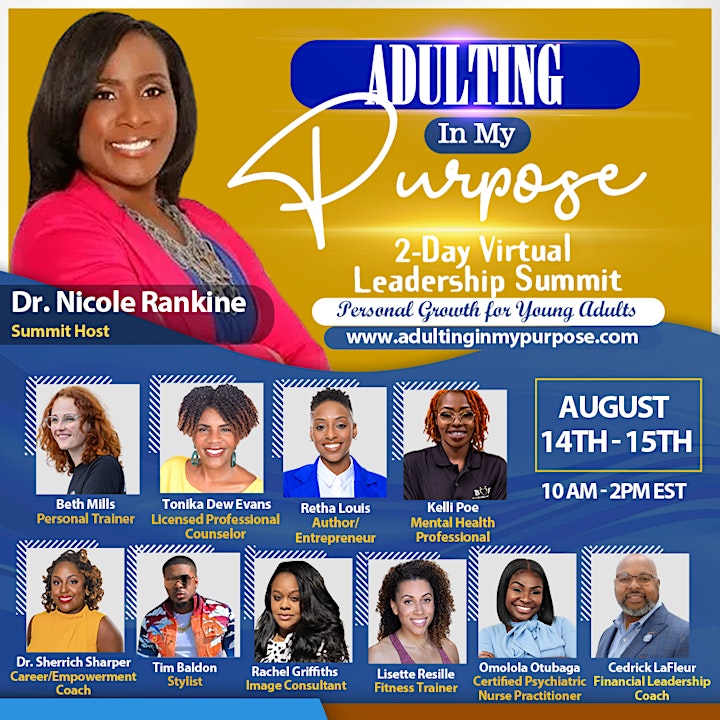 Organizer of Adulting In My Purpose 2-DAY Virtual Leadership Summit
The COLE Academy of Personal Growth is a training and development company of certified John Maxwell Team coaches, trainers, and speakers who have been trained by Dr. John C. Maxwell to help young leaders and the leaders that support them increase self-awareness, enhance leadership potential, improve communication skills, and foster the development of social and emotional capacities. Our coaches, speakers, and trainers are equipped with the best materials and have developed the proper skill sets to work with you one-on-one, in group settings, and through workshops and seminars to visualize, create and execute a customized leadership strategy to best fit your needs.