Description
20% off Early Bird Discount - if booked before Friday 12th January 2018
When is it?
This course 12-hour course will be in 4 parts delivered over 4x half days:
Wed 24th Jan 2018 09.15-13.00 (09.15 Registration for 09.30 start)

Thurs 25th Jan 2018 09.30-13.00

Wed 31st Jan 2018 09.30-13.00

Thurs 1st Feb 2018 09.30-13.00
ATTENDENCE ON ALL DATES IS REQUIRED TO RECEIVE THE CERTIFICATE
Who is it for?
This course is for everyone! With 1 in 4 of us experiencing a mental health issue every year, it is very likely you will need to use the skills learnt in these sessions in your personal and professional life. It is particularly beneficial for front line staff, line managers and anyone who works with the general public.


What will I learn?
Our MHFA Standard course is split up into 4 manageable chunks. These are:
What is Mental Health?

Depression & Suicide

Anxiety, Self-harm & Eating Disorders

Psychosis
In each section you'll learn how to:
Spot the early signs of a mental health problem

Feel confident helping someone experiencing a mental health problem

Provide help on a first aid basis

Help prevent someone from hurting themselves or others

Help stop a mental illness from getting worse

Help someone recover faster

Guide someone towards the right support

Reduce the stigma of mental health problems
How will I learn?
The sessions will be a mix of presentation, group discussions and group work activities. Our instructors provide a very safe learning environment and are trained to support you throughout the whole course. If you don't feel comfortable joining in certain bits, then don't, we won't make you do something you aren't comfortable with.
Due to some of the sensitive subjects of our courses, including suicide, we limit numbers to 16 people. We want everyone to feel safe and our instructors can help if people find some bits particularly difficult.
What materials will I get?
You'll receive a MHFA Adult manual, a workbook, MHFA Adult Action Plan Z-card that you can take away with you at the end of the course and also an attendance certificate from MHFA England to say you are now Mental Health First Aider.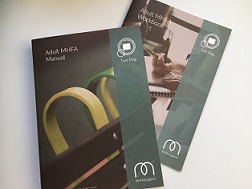 Refreshments
Light refreshments are provided throughout the sessions
Car Parking
There is no car parking at Aston House. There is plenty of parking in available in Uxbridge:
The Grainges - Oxford Road, UB8 1BS
INTU Uxbridge - High Street, UB8 1LA
Cedars - Oxford Road, UB8 1ND