Actions and Detail Panel
Adult Coed Soccer League
Sun, Dec 4, 2016, 8:00 AM – Wed, Dec 21, 2016, 5:00 PM MST
Description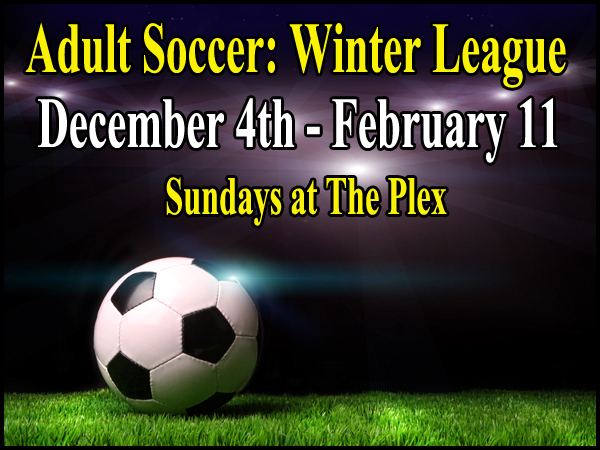 2016-2017 Adult Co-Ed Soccer League will run from December 4th- February 12th
2 DIVISIONS - Upper and Lower skills - The Lower division will be open to High School teams
THIS SEASON WILL BE 8 v 8 WITH A MINIMUM OF 3 GIRLS ON THE FIELD DURING PLAY. WE RECCOMMEND EACH TEAM TO BE 12-15 PLAYERS WITH AT LEAST 5 GIRLS ON THE TEAM

Free Agents are not guaranteed to be on a team. If an existing team has a need for substitutions, free agent players will be allowed to fill in.

Each player for this league must sign the online waiver for the Billings Sports Plex at www.billingsplex.com. Any one who does not complete the waiver will not be able to play in the first game until the waiver is done.
Anyone under the age of 18 must have a parent complete their online waiver.
No refunds will be given after December 4th 2016
Once the team captain has registered the League Director will send an email with more information such as roster paperwork and rules. Each team captain will be required to register their team on this site. Please remit payment here once all participants have paid their fees to you. Each team will be made up of 12-15 players. Total cost to register is $500/team - FOR A 15 PLAYER ROSTER THIS IS ONLY $33 APIECE.
THIS PRICE INCLUDES THE REF FEES FOR THE SEASON
Games will be played on Sundays - Please refer to the Sportsplex online calender for scheduled dates. Schedule will be posted online and at the Sportsplex once all teams have registered.

Email Chris Dixon to register as a team captain at chrisdixonsports@gmail.com, All Team captains are in charge of coordinating game schedule and reporting scores to the League Commissioner.