Description
Want to PASS the CCRN Exam?


Need a great critical care review?
Want to enhance your critical care knowledge base?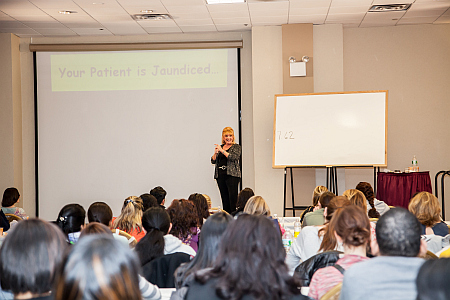 Then… register for this one day seminar. This program will give you the boost of confidence you need! An intensive review of the Core Curriculum and the most important areas of the new AACN® Certification Examination Blueprint.
Program Time: 8:00 AM – 5:00 PM
Speakers: Laura Gasparis Vonfrolio, RN, PhD and Lee Taylor-Vaughan EJD, MSN, RN, NP, CEN, CCRN
CCRN REVIEW CRAM TOPICS:
ENDOCRINE: Diabetes Insipidus, SIADH, DKA, HHNK, hypoglycemia

NEUROLOGICAL: Neurological assessment, increased intracranial pressure, head trauma, aneurysm, seizures, intracerebral hemorrhage, Myastehenia Gravis, Guillian Barre

RENAL: Renal anatomy, acute renal failure, CCRT, electrolyte imbalances

PSYCHOLOGICAL

HEMATOLOGY: DIC, HITS, ITP

GASTROINTESTINAL: GI hemorrhage, hepatic failure, pancreatitis, abdominal trauma, bowel obstruction

CARDIAC: Acute myocardial infarction, angina, arrhythmias, CHF, hypertensive crisis, shock states, HOCM, CABG, IABP

PULMONARY: ABG interpretation, respiratory assessment, acute respiratory failure, ARDS, status asthmatics, pulmonary embolism, thoracic trauma

MULTISYSTEM: Trauma, poisoning, MODS
Awards 8 Contact Hours
With Laura Gasparis Vonfrolio RN, PHD
(Morning Speaker 8:00am - 12:00pm) Dr. Vonfrolio RN, PhD has held CCRN & CEN Certifications for 13 years and has been a critical care nurse for over 35 years in positions of staff nurse, staff development instructor, and tenured professor of nursing. Dr. Vonfrolio has authored numerous articles on critical care and 11 books, such as Critical Care Examination Review Book 4th edition. You will laugh as you learn!

Lee Taylor-Vaughan EJD, MSN, RN, NP, CEN, CCRN
(Afternoon Speaker 1:00pm - 5:00pm) Dr. Lee Taylor-Vaughan; a native of Yorkshire England, began his career in healthcare in 1995 as an ER technician before completing programs for EMT, Paramedic, Registered Nurse, and Acute Care Nurse Practitioner. He obtained his BSN and MSN from Rutgers University and a Doctorate in Law from Concord Law School. Lee's career has been strongly focused on Critical Care and Emergency and as an Acute Care Nurse Practitioner with a specialty in Critical Care, ER, and Cardiothoracic Surgery. He has been a successful business owner since 1997, providing continuing education and certifications to nurses, physicians, and a variety of medical professionals.