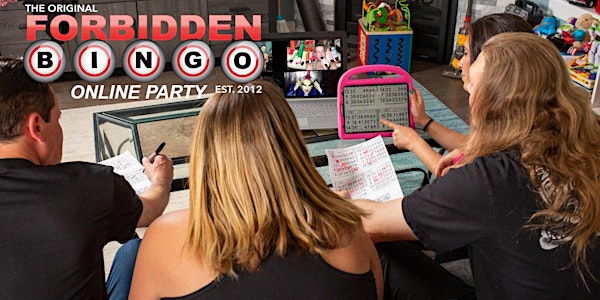 Adult Bingo Online Party + Complimentary Gift
Forbidden Adult Bingo Online Party
About this event
*PRINTABLE BINGO CARDS AND INSTRUCTIONS WILL BE EMAILED A FEW HOURS PRIOR TO START TIME* IF YOU NEED BINGO CARDS SENT EARLIER, EMAIL US
Forbidden Bingo Online Party Experience includes a 3-bingo card pack plus instructions to access the online party experience. The experience is powered by ZOOM. If you do not have a printer you can open the PDFs and mark them on a tablet, computer or iphone OR do it old school and hand write the cards out.
Forbidden Bingo Online Party happens Thursdays 8pm (MT) . Bingo will last close to 2 hours. Party room will open 30 minutes prior to start time
Must be 18+Tipping is required (Venmo: @ForbiddenBingo Ca$h App: $ForbiddenBingo or on our website under SHOP-add to cart with your signup
Computer with internet/webcam and the ability to print cards. It's possible to use a Ipad/Iphone to mark cards digitally and following along on a PC OR hand write them. Must show the winning card on cam.
Winners will received prizes - not cash.
1-card pack order PER PLAYER.
Make sure your address is correct, prizes sent to the shipping address you provided.