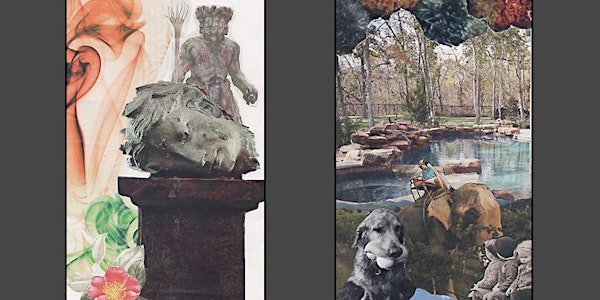 Adult Art Workshop: Soul-Prompted Vision Boards
When and where
Location
Northwoods Presbyterian Church 3320 Cypress Creek Parkway Houston, TX 77068
Refund Policy
Refunds up to 1 day before event
Description
Soul-Prompted Vision Boards

Instructor: Caroline Z. Marcos

Immerse yourself for a few hours in learning how to bypass your conscious mind and consult your soul in order to create your life through art. Choose from a collection of images to create collage cards that reflect your influences, your personality, and ultimately your vision for your life. Each card will have a deep instinctual meaning for you. You will get a taste of how you can consult your vision boards for self-exploration and understanding with a writing process.

All basic materials are provided for this workshop, but please bring any collected images or magazines you wish to include.

ABOUT THE ARTIST

Born in Alexandria, Egypt, Caroline Z. Marcos brings a rich cultural background to her multilayered mixed media work – the daughter of a Lebanese and Greek father, raised in California, and a Coptic Orthodox Christian. Caroline's achievements include a B.A. in Studio Art and Psychology (double major) from the University of California at Santa Cruz and a M.A. in Marriage and Family Therapy/Art Therapy Psychology. She currently teaches around the Houston community, including out of her own studio or as a guest instructor at the Pearl Fincher Museum of Fine Arts in Northwest Houston.
"I don't remember my life without art; I grew up painting, even in my coloring books with water paints as my parents told me stories about my paternal grandfather's oil paintings. His paintings (mostly landscapes and figures) adorned our home in Alexandria, Egypt, and I always enjoyed the scent of oil paints and admired his old paint set."
While at the University of California at Santa Cruz, Caroline found inspiration for her work from instructors Frank Galuzka, Tim Craighead, and Don Fritz, who worked in painting and mixed media using mica, acrylic gel transfers, and beeswax.
"I think that what started in their classes was what turned into what I do now with the encaustic painting, collage, and initiated my freedom into experimentation. Finally, when I studied art therapy, art became a vehicle for me to search my own depth, soul, psyche, and give meaning to my life experiences. This all started something for me that I still am working on today!"
Caroline traveled to London, England where she studied under the mentorship of Dr. Stéphane René, PhD, a Neo-Coptic style iconographer, because she wanted to learn more about the art of her church and because she believes her spirituality is closely connected to her art. There, she learned the fundamentals of the "written" icon, including the geometry and the theology of the icon. She practiced and completed writing the face of Christ using egg tempera. (www.firstimageicons.com)
"I am inspired by nature, by color, by a text (whether it be a poem, a scriptural verse, or lyrics and of course, by archetypes (symbolic images that have layered meanings throughout culture/history and the psyche."
---
PLEASE NOTE: Due to ongoing renovation of the museum building, this workshop will NOT be held at the Pearl Fincher Museum of Fine Arts. It will be held in Room 404 of the Northwoods Presbyterian Church, located at 3320 Cypress Creek Parkway, Houston, TX 77068 (at the corner of T.C. Jester and FM 1960).
Click the green "Tickets" button on this page to register.