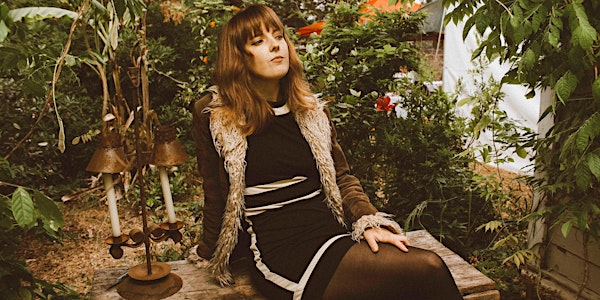 Adron with special guest Mick Mayer
Location
Eddie's Attic
515 B North Mcdonough Street
Decatur, GA 30030
Adron with special guest Mick Mayer at Eddie's Attic in Decatur, GA!
About this event
Adron
A new and ultraviolet feather in LA's cap, Adron is making waves with her timeless and wholly unusual musical oeuvre. Raised in Atlanta, she's a singer-songwriter too restless to stay rooted in the American South. Her kaleidoscopic guitar work carries the influence of Brazilian eminences like Luiz Bonfá and Caetano Veloso, while her voice has the classic clarity and richness of Doris Day with the adventurousness of Joni Mitchell. She aims to distill the entire history and geography of pop music into her own alchemical creation; in her songwriting there's careful structure, safeguarding a vintage pop nostalgia, but in the lyrics there's play, humor, and a bare-hearted frankness that feels too personal to come from anywhere but the present. Also a champion whistler, Adron incorporates not just melody but even birdcalls into her productions, layered into a sonic backdrop evoking lush climes and opiate breezes.
Since the release of Water Music in 2017, a surprise tour opening for Steely Dan's Donald Fagen, and her subsequent move to Los Angeles, Adron has teamed up with co-producer John Hendicott in recording a new full-length LP to be called The Trickster, conceptually centered around psychedelics, loving and losing, and itching for adventure. An ode to Adron's year in pandemic lockdown, "Song About My Computer" came out in 2021. She's also teased a new, self-produced EP called Peru, recorded almost entirely in Adron's bedroom (with drums and percussion coming from her long-time collaborator Colin Agnew in Atlanta). Early releases are popping up in Adron's Patreon (patreon.com/adron), including a cover of Robert Wyatt's "Alliance," and a glimpse into a darker, more brooding corner of her world. The Trickster and the Peru EP are expected in 2022, with Adron performing regular virtual livestream concerts on her social media platforms.
Adron on Instagram: @adronical
Adron on YouTube: youtube.com/adronmusic
Adron's official website: www.adronmusic.com
Adron on Facebook: facebook.com/adronmusic
Mick Mayer
Mick Mayer is a singer/songwriter and multi-instrumentalist based in Atlanta. He is most often recognized as a singer and bass player in Red Sea. He has also released original music with Mayer & Mayer, an acoustic outfit with his sister, Elle. Mick has toured the country with Red Sea and internationally as a supporting member in Honey Harper's live band. Mick is branching out into a solo venture with original full band material, with influences ranging from Hiroshi Satoh to Kacey Musgraves.