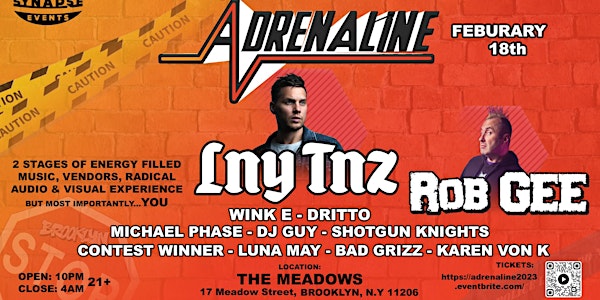 Adrenaline w/ LNY TNZ, Rob GEE
A hormone secreted by the adrenal glands, increasing rates of blood circulation, breathing, and carbohydrate metabolism and preparing muscle
When and where
Location
The Meadows 17 Meadow Street Brooklyn, NY 11206
Refund Policy
Contact the organizer to request a refund.
Eventbrite's fee is nonrefundable.
About this event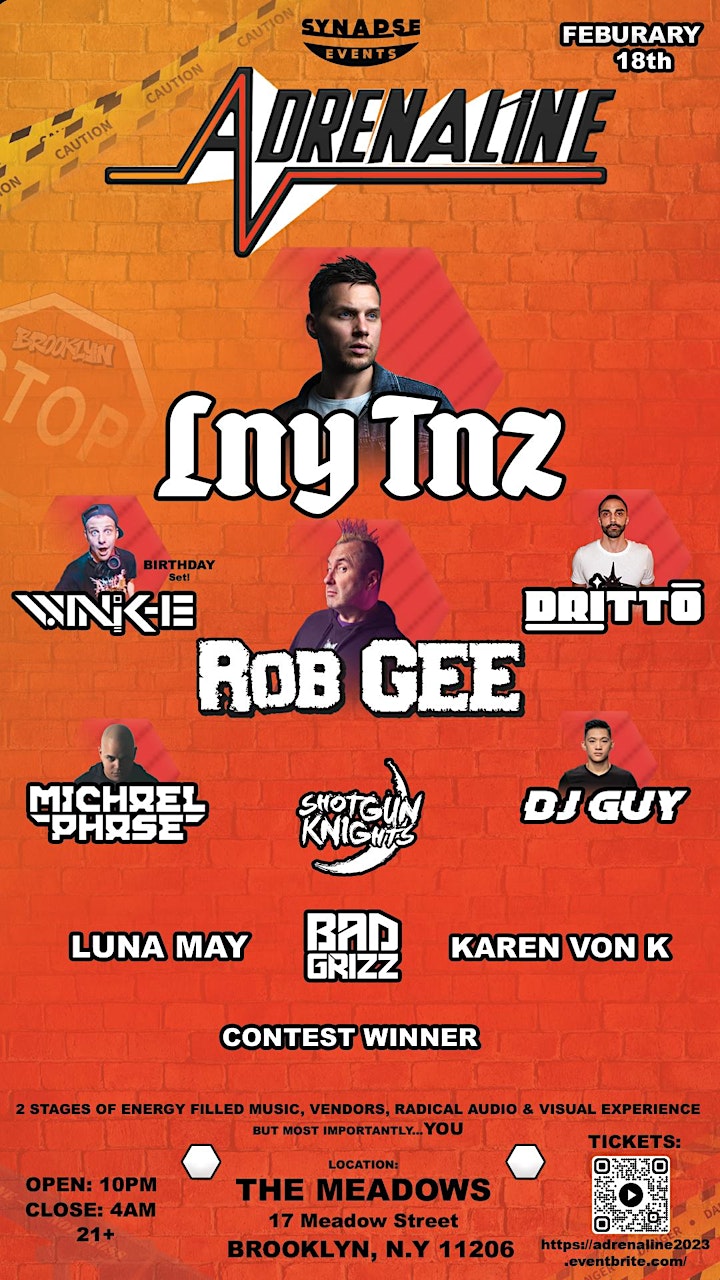 Join us for an EPIC night with 2 Stages of ENERGY filled music !!
🚦🚦🚦 The HEX - Main Stage 🚦🚦🚦
🔊 LNY TNZ 🔥
(Netherlands)
Hardstyle
-- FVCK GENRES / Barong Family / Spinnin Records / Smash the House / MAD DECENT --
http://www.lnytnz.com
https://soundcloud.com/lnytnz
Whether you don't give a fvck about tomorrow, your trap is going techno, or you're just a little paranoid, there's a great reason to get fired up about LNY TNZ.
Inspired by the passion of putting a new twist on hard hitting EDM. LNY TNZ started releasing underground bootlegs, remixes and original music, and was quickly noticed in the Dutch music scene, known for a total unique sound combining different styles of music. Even then, LNY TNZ was trying to push the genre boundaries and gained immediate support from leading artists.
LNY TNZ continuously pushes the boundaries of the EDM genre, famously embracing the term FVCK GENRES. His music and stage hostings is proof of this, as LNY TNZ collaborate with rappers, vocalists, and DJs to expand the sounds and reach of his music.
🔊 Rob GEE 🔥
(New Jersey)
Hardcore, Gabber
-- GEE thAng Music / BASSCON / Scantraxx / Neophyte Records --
https://linktr.ee/therealrobgee
Rob GEE's eclectic music taste and fuck genres mentality has provided him with the opportunity to collaborate with not only major artists in the hard dance scene such as Partyraiser, Dr Peacock, and the Prophet, but across other genres as well. Rob GEE's tracks cover a myriad of genres outside of the hard dance scene including, but not limited to, hip-hop, rock, and metal where he has collaborated with members of System of a Down and Slipknot. Rob GEE has shared the stage with everyone from Hatebreed and Biohazard to The Crystal Method & Busta Rhymes.
🔊 Wink - E 🔥
(Brooklyn)
Raw Style
https://linktr.ee/winkenyc
Wink-E has been a pioneer for Hardstyle and Hardcore in NYC since 2010. His ambition to bring harder music to prominence on the international stage is rivaled only by that of his own explosive stage presence. Not only a DJ in the technical aspects of the term, but he is also a performer devoted to the art which fuels him onward. Along the East Coast of the United States, WINK-E is renowned for his charisma, attitude and ability to keep listeners tuned in unmatched by many other DJ's.
🔊 DRITTO 🔥
(Brooklyn)
Big Room, Techno, Trance
-- Appointed Records / Wasteland Records / EDM.com --
https://linktr.ee/DRITTO
Along with creating widely supported tracks DRITTO has played at some of New York City's biggest & most prestigious venues. Putting on display his ability to use 4 CDJ decks simultaneously. DRITTO's beats will pull you into a black hole of filthy dance music and cosmic-sized drops. Come experience DRITTO, where the energy surpasses that of any star. He will leave you begging for more Super Nova-like BASS.
🔊 DJ GUY 🔥
(NY)
Big Room
-- Intensity Records / Blasting Records --
https://linktr.ee/djguymusic
🕋🕋🕋 The CELL - Side Stage 🕋🕋🕋
🔊 Michael Phase ⚡️
(Brooklyn)
Electro
-- HARD with Style / 2 Dutch / Keeping the Rave Alive / Speed House Movement / Inner Phase Records --
https://beacons.ai/michaelphase
Representing the diverse sounds of New York City. Michael Phase has created quite an impact in the industry in more ways than one. Renowned for dropping electrifying beats during his DJ
performances, it's no secret that Michael Phase is a natural born artist. From releasing chart topping hits on HARD with STYLE, 2 Dutch, and Keeping The Rave Alive. To co-producing some of the craziest songs/festival openings for music industry titans; Universal Music Group, ASHBA, Q -Dance, and Kingsland Festival
🔊Shotgun Knights ⚡️
(NY)
Trap, Jersey Club
https://linktr.ee/ShotgunKnights
🔊Karen Von K ⚡️
(NY)
Trap
https://linktr.ee/karenvonk
🔊LUNA MAY ⚡️
(NY)
Happy Hardcore
🔊BAD GRIZZ ⚡️
(Staten Island)
Hardstyle
https://linktr.ee/BadGrizz
🔊Contest Winner ⚡️
-- Look at posts on Synapse Events Facebook Page &/or Discussion below for details TBA --
🎭🎭🎭 ARTISTS / VENDORS 🎨🎨🎨
📸 - Ronnie C Photography
https://www.instagram.com/ronniecnyc/
https://www.facebook.com/ronniecphotography
👩‍🎨 - Katie Fogg
Live GLOW body painting from the amazing KFOGG
https://www.facebook.com/KFOGGStudio
🍧 - Cool Suppliers
FREEEE Ice's supplied by the Cool Suppliers (While Supplies last, Come early !!)
https://www.facebook.com/coolsuppliers
⛑ - Beyond Dope
A non-profit organization grounded in promoting love, safety, and connection within the music community, and addressing issues on substance use through grassroots programs and educational outreach.
https://www.bebeyonddope.org
https://www.facebook.com/beyonddopeprod
--- More TBA
***** Location: *****
The Meadows 📍
17 Meadow Street, Brooklyn NY 11206
Age: 21+ Time: 10pm - 4am
Date: Saturday, February 18th 2023
Tickets:
https://Adrenaline2023.eventbrite.com
***** Host: *****
Synapse Events ⚛️
http://synapseeventsus.com
https://www.instagram.com/synapseevents/
https://www.facebook.com/SynapseEventsUSA