Description
//
This Jet Boat ride will give you a adrenaline rush like no other. Just like a Jetski, this boat can make 360* twists, 180* spins, drifting and cruising at high-speeds.
RSVP your rush now !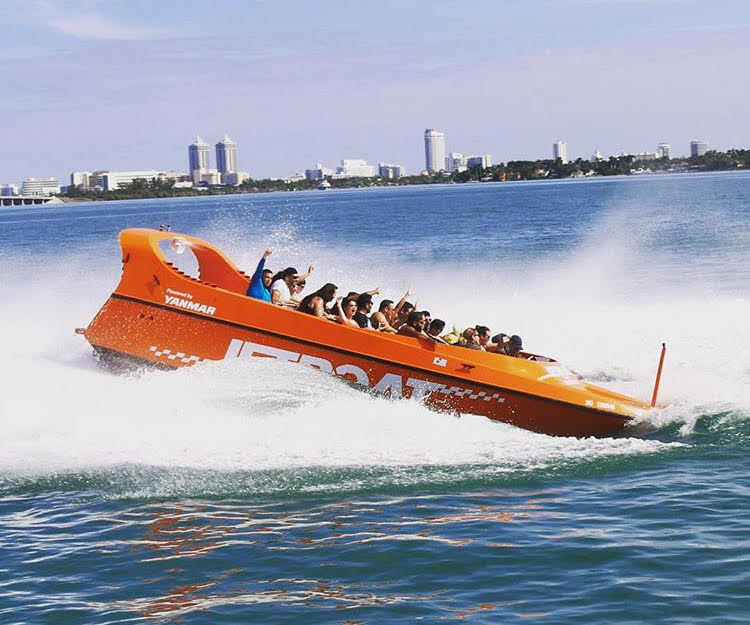 Departing from the Marina, we head right on to our territory in San Marco Islands for a few twists and spins cruising

at high speed as

we head for Memorial Island, Star Island, and Hibiscus Island ( Millionaire Row ) to receive yet another shot of adrenaline and see some of the houses of the Rich and Famous from another perspective. The trip ends going in high-speed back to Marina. If you feel that you need more adrenaline… let our captain know! He will give you an extra set of twists just before arrival at the Marina.


4K video of your ride is availabe for purchase online after event.



Boat

ride tickets are $30 per person
A $12 deposit + eventbrite fee to RSVP
A balance of $18 due at dock.


After we receive your deposit, you will receive a e-mail confirmation with dock information.


Things to know:
Be prepared to get WET and possibly SOAKED. Zip locked bags will be given to all guest for cell-phones and other valuebles. Towels are not included but we do suggest bringing one with you.
We highly recommend people that have back or heart problems to consult with your doctor before doing our

JetBoat

Ride. We do not allow women who are pregnant.

Maximum weight per person: 300 lbs.
If you wish to re-schedule your reservation, you must do it with at least 24 hours in advance. If not done within that frame of time, you will lose your deposit or the possibility of re-scheduling for another date. No-shows will also lose their opportunity to rebook or refund their deposits.




We do offer a variety of other Daytime activities and Nightlife Packages,
Please visit us at

MiamiPartypackage.com
or give us a call at 305 859 1028 for more information.