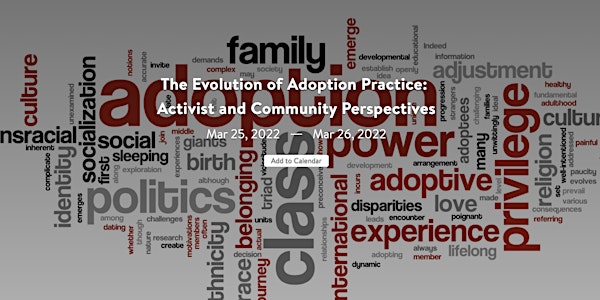 Adoption Initiative Biennial Conference 2020/2022
10th Biennial Adoption Initiative Conference St. John's University in Collaboration with Montclair State University
Refund Policy
Contact the organizer to request a refund.
Eventbrite's fee is nonrefundable.
About this event
The Evolution of Adoption Practice: Activist and Community Perspectives
https://adoptioninitiative.dryfta.com/index.php
For 20 years, the Adoption Initiative has developed conferences addressing themes of adoption ethics, impact of religion, race, and class on the adoption network, adoptees in adolescence, birth and adoptive family communication, and the need for adoption-responsive mental health practitioners and services. Drawing upon our tradition of using a critical lens to examine and explore adoption practice, policy, and positioning, we are pleased to announce the theme and title of our 10th Biennial Adoption Initiative Conference, "The Evolution of Adoption Practice: Activist and Community Perspectives."
For our 20th-anniversary conference, we will reflect upon the lessons we have learned, as well as the topics we have engaged with, over our past two decades of the Adoption Initiative conferences. The recent sociopolitical and socioeconomic milieu has important implications for the lens through which we view adoption. For this conference, we are interested in papers/presentations that address topics like the growth in focus on how adoption functions within human rights, civil rights, and social justice frameworks. We welcome proposals that focus on emerging adoption practices, research on best adoption practices, critiques of adoption practice, the rise in adoptee activism, efforts to challenge dominant mythologies concerning adoption practice, and changes in pre-adoption preparation.
Over the past twenty years, the presumption of the "best interest of the child" has been questioned particularly when asking who gets to determine what the best interests of the child is. First/birth mothers and fathers, adoptees, and adoptees' communities of origin are organizing and challenging dominant structures and institutions that have historically been silenced.

Register for the conference at https://adoptioninitiative.dryfta.com/registration/my-messages
Please use the same name and email address when registering at both the conference website and here on eventbrite.
Thank you!
DONATIONS, DISCOUNTS, AND SCHOLARSHIPS
In an effort to be inclusive of those whose lives have been impacted by care and welfare systems including adoption, as well as those who might not necessarily have the means to pay for conference registration for other reasons, we are asking participants to consider donating more to help cover the costs for potential attendees so impacted.
Further to this, we are on a case-by-case basis extending discounted registration to those unable to attend due to financial constraints. Please contact Daniel Drennan ElAwar [drennan@panix.com] for further information if you would like to attend but are unable to for financial reasons.
We thank all of our community for thus allowing a broad spectrum of participants to attend our conference, and for helping make sure that all those who wish to attend are able to do so.
REFUND POLICY
All cancellation refund requests must be received in writing. Requests may be emailed, mailed or faxed (contact information below). Cancellations for the 2022 conference received by March 1 will receive a 75% refund. No refunds will be made for cancellations received after March 11 2022. Telephone requests will not be honored.