Adoptee Paths to Recovery - Support Group Meeting - August 10, 2021
Sales Have Ended
Registrations are closed
Join Zoom Meeting https://us02web.zoom.us/j/84372303072?pwd=UlJVaUZ0MXRjcEdieFlFTkE1bHlhQT09 Meeting ID: 843 7230 3072 Passcode: 817321
Sales Have Ended
Registrations are closed
Join Zoom Meeting https://us02web.zoom.us/j/84372303072?pwd=UlJVaUZ0MXRjcEdieFlFTkE1bHlhQT09 Meeting ID: 843 7230 3072 Passcode: 817321
National Association of Adoptees and Parents - Adoptee Paths to Recovery - Support Group Meeting - August 10, 2021
About this event
Adoptee Paths to Recovery Support Meetings ( https://naapunited.org/adoptee-paths-to-recovery )are non-denominational and based on the philosophy that adoptees experiencing any type of addiction (substance-related and/or behavioral) have much in common and can benefit from sharing together. These meetings offer a safe place where people can share their addiction recovery challenges, experiences, and solutions, as well as how recovery has changed their lives. Groups are facilitated by a professional with expertise in recovery and adoption, both professional and lived.
We hold meetings that are open to everyone, regardless of the uniqueness of their pattern or patterns of addiction. It is a way for adoptees seeking and practicing all types of recovery to come together and learn from one another.
Meeting Structure: We discuss challenges, experiences, solutions, actions, and resources related to our mutual desire to increase our wellbeing.
Statement of Purpose: These meetings offer a place for people to share their adoption and addiction recovery experiences while emphasizing safety, validation, common problems, and common solutions. We will discuss our experiences with initiating and sustaining hope and healing for recovery, and how it adopting healthier behaviors and coping mechanisms has changed our lives, regardless of the substance or behavior that is at the root of our addiction.
We believe there are solutions and specific actions that help us initiate and sustain our recovery lives. This is a mutual self-help social support group, not a therapeutic process group. Our group focus is to have a conversation with each other and learn more about recovery from addiction. This group is for anyone who has suffered from addiction to a substance or unhealthy behavior and/or has been affected by the symptoms and/or disease of addiction, which includes family and friends. Our goal is to achieve long-term recovery (defined by SAMHSA as "A process of change through which individuals improve their health and wellness, live a self-directed life, and strive to reach their full potential"), sharing what we have learned from many paths and diverse recovery-based programs. These Adoptee Paths to Recovery group meetings are for anyone practicing any path they see fit to recover. These can include life philosophies, meditation, yoga, wellness programs, 12-Step Recovery, SMART Recovery, Secular Recovery, Medication-Assisted Therapy, professional therapy/counseling, harm reduction strategies, Moderation Management, and/or family recovery support groups/programs.
We believe there is no wrong way to initiate recovery. What someone might need at one point in time may be vastly different from what a person needs at another time. We hope that you find this Adoptee Paths to Recovery group useful to your continuing health and happiness.
For more information about this group/meeting, please email us at David@NAAPUnited.org
Please download and LOG into Zoom Meeting in advance of the event https://zoom.us/download#client_4meeting
Join Zoom Meeting
https://us02web.zoom.us/j/84372303072?pwd=UlJVaUZ0MXRjcEdieFlFTkE1bHlhQT09
Meeting ID: 843 7230 3072
Passcode: 817321
By clicking on this link, you understand and agree that:
1. This is a public meeting with no guarantee or representation that information or identity shared is confidential.
2. Here's how to create a first name only or an anonymous user profile. https://support.zoom.us/hc/en-us/articles/201363203-Customizing-your-Profile You will have the option to disable your image and mute your microphone, should you choose to do so.
3. This is a facilitated peer support group, not a group therapy session. If you are experiencing a serious mental health event, such as suicidal thoughts, please contact a licensed professional or suicide hotline at 1-800-273-8255
4. You agree to hold harmless NAAP, its individual board members, facilitators, and planners from any liability for outcomes of your participation in this event.
5. The hosts of this facilitated peer support group reserve the right to limit access to anyone deemed inappropriate, threatening, or otherwise disruptive to the group and its intended purpose.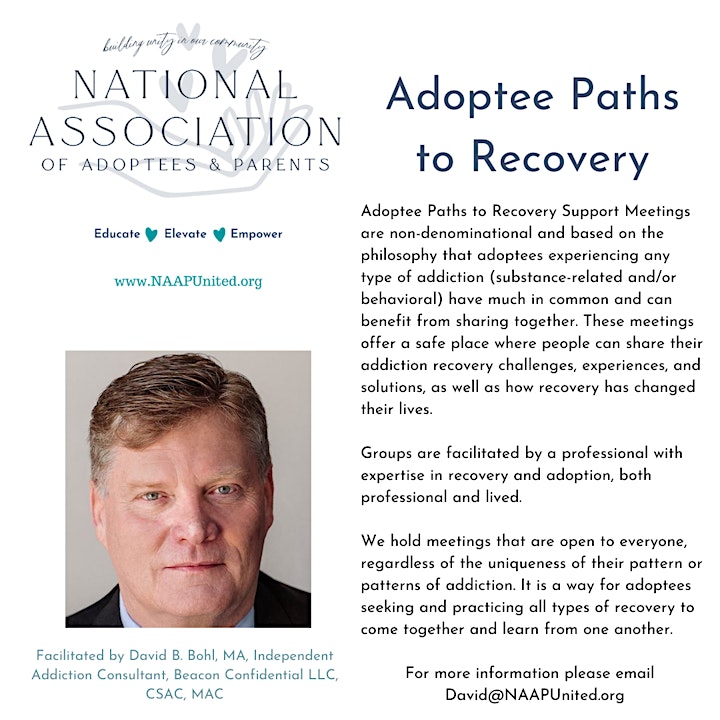 Organizer of Adoptee Paths to Recovery - Support Group Meeting - August 10, 2021
National Association of Adoptees & Parents, Inc. is a 501 (c)3 non-profit organization committed to enhancing the lives of families that have been touched by Adoption with an emphasis on education and empowerment. We recognize and respect each individual, regardless of where they are in their Adoption walk and strive to provide solutions, resources, and connections for Adoptees and their families.