#AdoptATweep presents: Digital Media and Factivism (Activism with Facts and Data) Plus Global Day of Action #ThrowbackThursday and Knit-in networking session powered by @SaveChildrenNG.

Saturday, June 21, 2014 from 3:00 PM to 7:00 PM (WAT)
Event Details
#AdoptATweep presents: Digital Media and Factivism (Activism with Facts and Data)
Plus #EveryNewborn Side Event powered by Save the Children Nigeria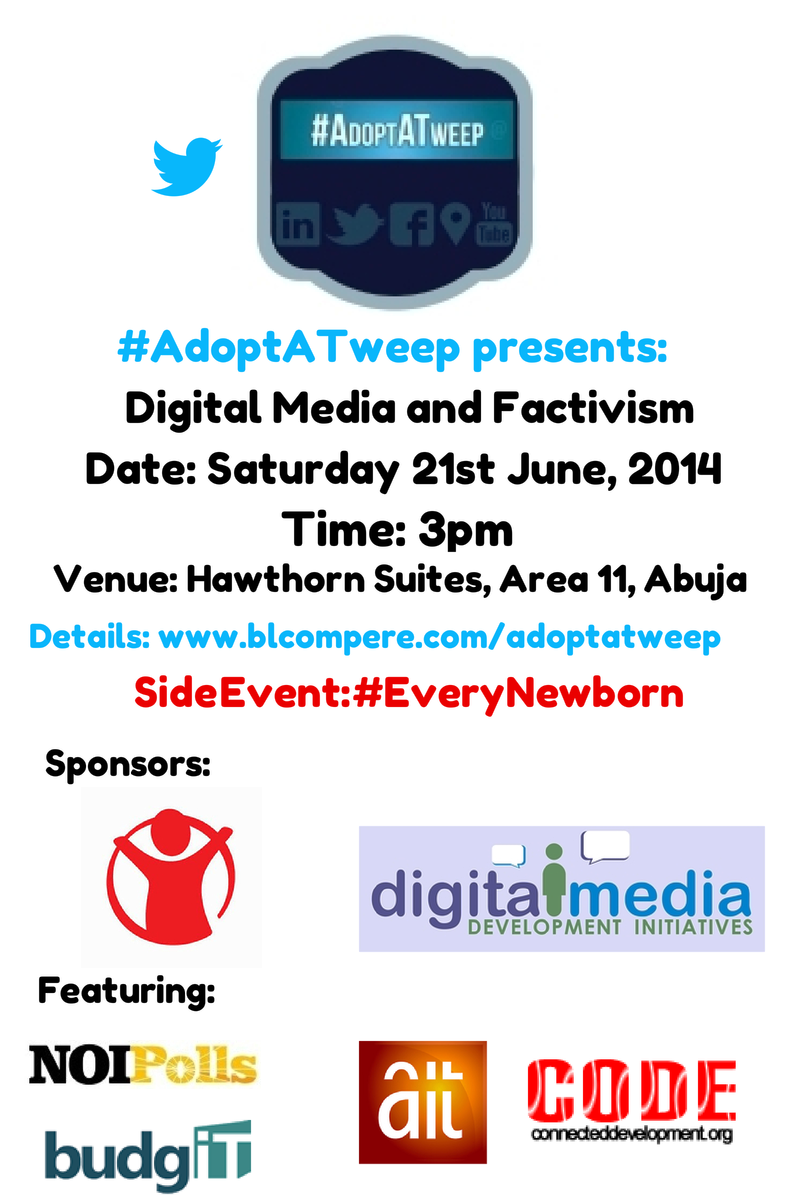 #AdoptATweep and @SaveChildrenNG presents Global Day of Action #ThrowbackThursday and Knit-in networking and paparazzi session
Generation Y has taken leadership of citizen journalism, thanks to digital media explosion, advanced technology and the ever increasing access to internet. While offline has indeed gone online, activism has been one of numerous beneficiaries. However, the dearth of evidence-based Clicktivism can easily smear clear objectives.
That is why U2's lead singer, Bono, who constantly uses his celebrity status to advocate for social justice worldwide to end hunger, poverty and disease hopes he can "...infect you with this virtuous data-based virus, the one we call factivism. It's not going to kill you. In fact, it could save countless lives."
We invite you to join us on Saturday the 21st of June at exactly 3pm as we discuss ways Digital Media, technology, facts and data can be used as tools to demand accountability and good governance. We will explore the ways that experts in the data industry are employing to get accurate and factual data. We believe that every young person that joins us on that day will be sufficiently armed not just with knowledge of accurate data selection but the resolution to become a Factivist.
It is not just a day for learning. There will be a Social Good side event powered by Save the Children Nigeria, focused on the #EveryNewborn Action Plan campaign. This will be in two forms:
#ThrowbackThursday Tweet-a-thon, Facebook-a-thon and Instagramia:
Join the #ThrowbackThursday for Social Good conversation by sharing a photo of yourself as a newborn, or with your newborn using the hashtags #TBT and #ThrowbackThursday.
Date: 19th of June, 2014 (Global Day of Action)
You can also join the #ThrowbackThursday Tweet-a-thon, Facebook-a-thon and Instagramia and help amplify the newborn narrative. You will receive 50+ customized updates (plus photos) that you can simply copy, paste and post via Twitter, Facebook and Instagram.
Knit-in networking and paparazzi session:
Participate in knitting a global baby blanket as a symbol of our most common thread: the fact that every person on this planet was a fragile baby once, and women took risks to bring us into the world. It symbolizes the care and protection we should provide to mothers and newborns.
You will be able to knit a national blanket with mums, midwives, campaigners as Save the Children would be using the blanket for national advocacy and events. We will collect personal stories and advocacy messages to take to decision makers from all that joined the Knit-in networking and paparazzi session.
This event would be taking place globally on the 19th of June, 2014 but Save the Children Nigeria would hold it as a side event on 21st of June, 2014 during the #AdoptATweep event and the hashtag of choice will be #EveryNewborn.
About the #EveryNewborn Action Plan campaign:
Preamble:
Newborn deaths now account for at least 44% of deaths among children under the age of five globally, resulting in 2.9 million lives lost each year. Another 2.6 million babies die in the last 3 months of pregnancy or during childbirth (stillbirths). Reductions in neonatal mortality have lagged behind those of maternal, infant and child mortality, due to less attention and investment. As countries make a final push to achieve the Millennium Development goals, and look ahead to the next 20 years, reducing newborn mortality is an important challenge which needs to be faced.
#EveryNewborn Action Plan campaign:
The Every Newborn action plan will provide everyone with a roadmap and joint action platform for the reduction of preventable newborn mortality. Linking the work of all stakeholders, it will enable policy makers and others to take action to accelerate national plans to achieve clear results for newborn survival, enhancing the achievement of wider goals for women's and children's health. It will define the role and responsibilities of stakeholders, setting out a vision, targets and objectives, with recommended key actions to implement based on proven strategies for change and the latest evidence on effectiveness, costs and expected impact of interventions.
How can you get involved?
After the successful launch of the Newborn Report in February and the World Health Assembly in Geneva last month, the Every Newborn Action Plan will formally be unveiled in Johannesburg at the Partnership for Maternal, Newborn and Child Health (PMNCH) partners' forum in two weeks. In the lead up to the partners forum Save the Children International will be doing a series of activities in conjunction with #AdoptATweep to highlight Save the Children's work around newborn survival and bring the issues more into the public's domain.
Confirmed Panel Participants:
Oge Funlola Modie: Chief Executive Officer, NOI Polls

Stanley Achonu: Operations Lead, Budgit

Bankole Toba: Director, Digital Media Development Initiatives

Adaora Onyechere: Anchor, Kakaaki (Africa Independent Television)

Hamzat Lawal: Co-Founder, Connected Development [CODE]

Dr. Abimbola: Senior Maternal and Newborn Health Manager, Save the Children Nigeria
About AdoptATweep™
AdoptATweep™ is Abuja's foremost offline social media ensemble, targeted at the use of twitter and other social media platforms for networking, marketing, business, social good and branding. Being passionate about young people and how social media can be transformed as a development tool was the sole reason that AdoptATweep™ was created. Adopt means: adding a tweep. Tweep refers to someone who uses the twitter social media platform to drive dialogue. We are multi-dimensional and not only deal with twitter, but also, Facebook, Instagram, YouTube, Livestream, Spreecast, Klout, Linkedin etc. We provide professional trainings on ethical use of New Media. Our #BYOD events are aimed at empowering people to create brands that will attract attention on social media, gathering entrepreneurs and creative artists, to learn social media influence growth secrets at a 100% discounted fee.
Have questions about #AdoptATweep presents: Digital Media and Factivism (Activism with Facts and Data) Plus Global Day of Action #ThrowbackThursday and Knit-in networking session powered by @SaveChildrenNG.?
Contact Blossom Nnodim
Attendee List
Sort by:
Date
When & Where

Hawthorn Suites Abuja
1 Uke Street, Garki, Area 11, Abuja, Nigeria
(Same Street as Sahad Stores)
Abuja, Federal Capital Territory
Nigeria

Saturday, June 21, 2014 from 3:00 PM to 7:00 PM (WAT)
Add to my calendar
Organizer
Author| Blogger| Compère|
Passionately using Social Media for Social Good.