Location
UF/IFAS Extension Pinellas
12520 Ulmerton Rd
Largo, FL 33774
Description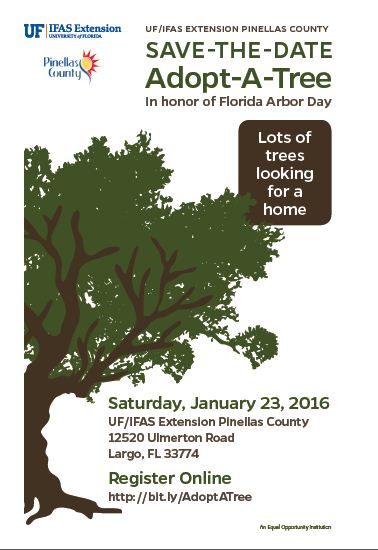 Learn everything you need to know to choose, plant, establish and maintain a new tree.
Topics covered will include: "What Trees Provide for Us", "Fun Tree Facts", "Putting a Tree in the Right Place", "Initial Planting and Tree Care" and "After-Care and Maintenance".
There will be both hands-on and lecture segments for this program. Class subjects are taught by UF/IFAS Extension Agents.
There will be a variety of adoptable trees to choose from that are specially selected to fit in the different types of habitats found in Pinellas County.
---
Reservation policy: Before continuing, we would like to make you aware of our reservation policies. Cancellations - If your class is canceled for any reason you will be notified no less than 24 hours prior to class start. We will provide a full refund for cancellations made by Pinellas County Extension. Refunds may take up to 30 days to process. Payment - We require full payment at time of reservation so be prepared with a credit card to complete this transaction. Refunds - Refunds will be made in the event of a class cancellation or if the registrant requests a refund 24 hours prior to the class time. Reservations - You must be 18 to make a reservation. If you are under 18 and want to attend a class you must register and attend with a parent or guardian.
Ethnic background and racial information are collected to comply with Federal reporting requirements for Extension programs. Extension programs are open to all persons without regard to race, color, sex, age, disability, religion, or national origin.
Pinellas County complies with the Americans with Disabilities Act. If you are a person with a disability who needs any accommodation in order to participate in this class you are entitled, at no cost to you, to the provision of certain assistance. Prior to two working days before the class, please contact the Office of Human Rights, 400 S. Fort Harrison Ave., Suite 500, Clearwater, FL 33756, (727) 464-4062 (Voice/TDD).