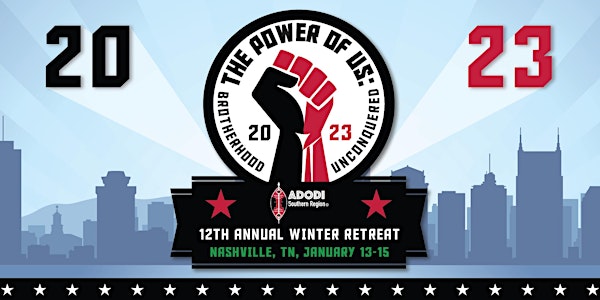 ADODI SOUTHERN REGION TWELFTH ANNUAL WINTER RETREAT COMES TO NASHVILLE !
The ADODI SOUTHERN REGION will host the 12TH ANNUAL WINTER RETREAT!
When and where
Location
DoubleTree Suites by Hilton Hotel Nashville Airport 2424 Atrium Way Nashville, TN 37214
Refund Policy
Contact the organizer to request a refund.
Eventbrite's fee is nonrefundable.
About this event
The ADODI SOUTHERN REGION will host the TWELVE ANNUAL WINTER RETREAT in Nashville, TN, during Dr. Martin Luther King, Jr.'s birthday Weekend.
The theme for the retreat is "The Power of Us: Brotherhood Unconquered!". There will be empowerment affirmation sessions, workshops, talent sharing, & fellowship. 
***This is an alcohol & drug-free weekend***
The Adodi Southern Region consists of the 16 Southern states of Alabama, Arkansas, Delaware, Florida, Georgia, Kentucky, Louisiana, Maryland, Mississippi, North Carolina, Oklahoma, South Carolina, Tennessee, Texas, Virginia, & West Virginia. Also included is the District of Columbia.
Registration Information
Complete Registration Package - includes two-night hotel accommodations, Reception Dinner (Friday), Lunch & Dinner (Saturday), Conference Materials, & Special Adodi Southern Paraphernalia. Breakfast is included with the hotel accommodations.
Those individuals needing accommodations, the registration is $325.00 (double) & $450.00 (single).
Retreat Only Package - includes Reception Dinner (Friday), Lunch & Dinner (Saturday), Conference Materials, & Special Adodi Southern Paraphernalia.
For those individuals who do not need accommodation, the registration is $225.00
The Opening Reception will take place on Friday, January 13, 2023, @ 7:30 pm EST. The Closing Event will be on Sunday, January 15, 2023, @ 12:00noon EST.
**************NOTICE**************
Adodi Southern Region's COVID-19 Protocol for January 13 - 15, 2023, in Nashville, Tennessee.
**** Safety Protocols****
The CDC guidance acknowledges that the pandemic is not over but also helps us reach a point where COVID-19 no longer severely disrupts our daily lives. Therefore, the Adodi Southern Region Advisory Board will continue to be mindful of best practices to proceed with our in-person Retreat. These requirements reflect current CDC guidelines and the desire to create the safest space possible for all ASR Retreat Attendees.
The following safeguards are in place to provide mitigation of our community risk:
1. Face coverings: Attendees are encouraged to wear Face coverings/mask while indoors at the hotel, except when eating and drinking. Face coverings will be available for all events. In addition, during Meals (food/beverage service), masks and gloves will be worn by servers.
2. Hand sanitizer: Hand sanitizing stations will be strategically located/used throughout the Retreat site, and attendees are reminded to wash their hands frequently.
3. Social distancing: Be mindful of self-physical distance and social distancing throughout Retreat events.
4. Cleaning/Sanitizing: Frequent cleansing of high-touch areas (e.g., workshop room doors, door handles, etc.) ASR Winter Retreat Committee Designees and volunteers will perform these tasks.
Adodi Southern Region's main priorities are caring for and supporting one another during the Retreat and in general.
We appreciate you and look forward to hosting you from January 13 -15, 2023, in Nashville, Tennessee.
Adodi Southern Region Advisory Board
How to submit payment for ASR Winter Retreat
Online registration through Eventbrite (full payment required)
1) Payments can be submitted through PayPal
The account username is: adodisouthern@yahoo.com
**Partial payments can be made through PayPal, sending to adodisouthern@yahoo.com, using the prompt "send to friends & family."
2) Payments can be submitted through CashApp
The Account username is: $AdodiSouthernRegion
**Partial payments can be made**
3) Payments can be mailed to the P.O. Box
1. Make your payments out to Adodi Southern Region
2. Mail to P.O. Box 4805, Columbia, SC 29240
**Partial payments can be made**
For additional information about the retreat registration about payments, you can connect.
Gerald McNair
gmcnair30@yahoo.com
803-553-3477
*****Retreat Deadline Dates*****
Deadline for the online registration is Friday, January 6, 2023 @ 12:00pm EST & PayPal for the Full Retreat Package is on Monday, January 9, 2023 @ 12:00pm EST. Full payments (Cash.CashApp, or Money Orders for the non-hotel package) can be accepted @ the door on the first day of the retreat.
**** RETREAT CANCELLATION POLICY****
RETREAT CANCELLATIONS
You must read and understand our cancellation policy before completing your registration.
Naturally, no one books with the intention of canceling or postponing their retreat, but unexpected things do happen, so please purchase travel cancellation insurance once you have made your reservation.
CANCELLATION POLICY
The cancellation policy below is designed to protect both retreat leaders and all retreat attendees (prospective and current).
CANCELLATION | Initiated by Participant
Please note that there will be no refunds or discounts for arriving late, leaving early, flight cancellations, travel delays, or illness. If you cancel your participation in the retreat for any reason, the cancellation policy below will apply, with no exceptions.
We wish we could compensate people for unforeseen circumstances, but we have incurred expenses that, once paid, we cannot refund. We strongly encourage you to purchase travel insurance if you have concerns.
** CANCELLATION POLICY**
IF YOU CANCEL MORE THAN 30 DAYS PRIOR TO THE RETREAT: (BEFORE December 16, 2021)
The balance of your fees paid will be refunded to you after a cancellation fee of 30% of your registration fee for administrative costs.
IF YOU CANCEL LESS THAN 30 DAYS PRIOR TO THE RETREAT AND YOU CAN NOT FILL YOUR PLACE:
You will forfeit a full refund and receive 50% to dedicate to a future retreat.
CANCELLATION | Initiated by retreat leaders
While we have never canceled a retreat to date, if the Adodi Southern Region retreat must cancel for any reason, you may transfer your full retreat payment to another retreat or request a refund of your payment to us, constituting a full settlement. Adodi Southern Region is not responsible for expenses incurred in preparation for any canceled retreat, such as airline tickets, loss of work, and/or other costs associated with preparing for your trip. Again, if you have any concerns, please purchase travel insurance.
To cancel, you must notify by email or phone; Gerald McNair @ gmcnair30@yahoo.com or 803-553-3477
WHAT IS ADODI
Adodi is dedicated to the mutual acknowledgment, acceptance, appreciation, & affirmation of same-gender-loving men of African descent. Our purpose is to foster & encourage the self-discovery, validation, empowerment, & liberation of all members of our diverse community. We provide a safe space to same-gender-loving men of African heritage who seek a better understanding of their spirituality, self-expression, & sexual identity. During the last 30+ years, same-gender-loving brothers have gathered under the banner of ADODI to affirm, celebrate, & honor themselves & each other.
THE SIX PRINCIPLES OF ADODI
1) Spiritually Guided
We seek alignment with the Divine Energy that unites & centers all our spirits @ the beginning & closing of all we do.
2) Honesty, Openness, & Clarity
We stand personally responsible for communicating thoughts and feelings in a sincere & concise manner. We clearly & fully articulate our ideas, suggestions, insights, & needs while being mindful of our body language.
3) Sensitivity to Feelings
We utilize active listening as a means of respect, acknowledgment, & validation of the feelings or viewpoints expressed & implied by our brothers, whether or not we agree with them. 
4) Carefronting
We reach out to support  & assist each other in a caring & effective manner. When coming face to face with each other around sensitive & challenging issues, we always address each other from a place of love & openness to facilitate healing & intimacy versus aggression & antagonism, which leads to hurt & distance.
5) Resolution
We take collective care, within the bounds of all we do, to allow space for individual members to achieve closure on matters discussed while monitoring the process & the time constraints. When necessary, we can establish a specified time & setting where unresolved matters can be further explored.
6) The Five A's: Acknowledge, Appreciate, Affirm, Accept, Ache'
This principle guides and supports all the others, and all other principles can be seen as an aspect of The Five A's. ACHE is the concept of Power and Empowering (So Be It), which reinforces all that we say or do, declaring our intentions to the Universe and the Divine Energy that unites and centers all our spirits. We use The Five A's as ideal dynamics when responding to each other.