Description
Top 5 Easy Editing Tricks with Adobe Lightroom Classic
Basic Panel: hidden quick & easy fixes for highlights and shadows with detail, accurate saturated color, beautiful skin-tones and great contrast
Noise Reduction: How to reduce the speckles
Sharpening: How to increase sharpness without ruining beautiful skintones
Straighten & Crop: More quick fixes for common problems. You won't believe what Classic can do!
Best Ever Speed Trick! How to edit 1 photo and sync to any or every other image from that shoot - in SECONDS!
Who is this class for?

Any user of Lightroom Classic or Lightroom 5 or 6, Mac or Windows Users.
What should I bring?

If you have a laptop with Lightroom installed, feel free to bring it.
Please make sure your battery is fully charged. Mac or Windows.
Feel free to bring a notebook or pen/paper, but we'll have handouts for you to keep.
Prerequisite or Experience Needed:

This class will NOT include importing your images (since we cover this in a previous class). You'll need to know this prior to the class and have some images in your Lightroom Library if you're bringing your computer.
This class is NOT for Lightroom Mobile. If you have a question about which version we're using, please contact Malinda.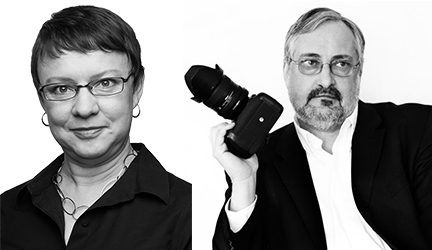 Glenn & Malinda Hartong each have decades of experience shooting news - in any & every situation. Glenn worked at the Enquirer as a staff photographer for 26 years. Malinda has freelanced, owned a photo studio, and been a full-time photojournalist as well. Their work has been published around the globe and they continue to freelance.
Glenn is currently teaching Photojournalism at Miami University, and co-owns ChiliDog Pictures HD Video Producers for clients including The Dragonfly Foundation and 5/3 Bank.
Malinda, owner of Hartong Digital Media llc, has been teaching beginners to pros full-time for over 7 years, including monthly photo walks with Great Parks, and summer photo camps for teens.
Both Glenn & Malinda love distilling Photography down to the simple key techniques to get the best shot - with easy practical tricks - everything from iPhones to Nikon and Canon SLRs to editing - including which buttons do what and when to use them - which you'll find very different from every other class you've ever experienced.
Be sure to check out
HartongDigitalMedia.com
for tips from capturing to editing your best photos! Follow them @HartongDigital @TheHartongs @ChiliDogHD on Instagram