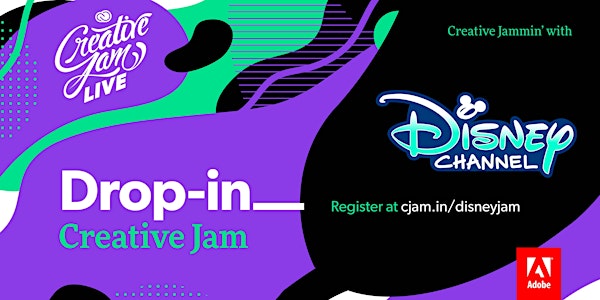 Adobe Drop-In Rush Creative Jam LIVE with Disney
Register with a team to compete against colleges nationwide in a weekend-long Creative Jam LIVE event to win prizes and bragging rights.
About this event
Adobe is partnered with Disney Channels to bring you an event that will challenge the conventional narrative and change the way you tell stories.
Disney has been telling stories on the big screen since 1922, and now they do so through television, film, digital experiences, publishing, merchandising, and 14 theme parks around the world.
In this two-part Jam, we will:
Start with a design challenge reveal and an Adobe Premiere Rush workshop on Friday, October 18
Compete with your 2-3 person team in a fast-paced tournament solving a Disney video challenge over the weekend
Submit your project on Sunday, October 20
Present your work to the jury and find out if you and your team wins on Monday, October 21
It will all be live-streamed on Facebook so your friends and family can witness your path to victory!
REQUIREMENTS
You MUST be a currently-enrolled student of an accredited college or university in the United States or Canada. Registrants who do not provide a valid campus-issued email address will be removed from the event. Registrants who are not part of a team of at least 2 people will not be able to participate.
=========================================
WHAT'S INVOLVED?
Attend two 2-hour sessions online and work with your 2-to 3-person team to compete. Bring your own laptop with Adobe Rush installed, check the system requirements in order to run the software on your device. Don't have Adobe Creative Cloud access? Don't worry, get the Premiere Rush Free Starter plan and create 3 exports on us.
Kick Off: Friday, October 18
4:00 pm ET–6:00 pm ET (1:00 pm PT–3:00 pm PT) At this kick off, get a quick training session in Adobe Premiere Rush and learn how to shoot and edit a simple video on your computer or iPhone. And... we'll reveal the Jam challenge! Over the weekend, collaborate on a video that demonstrates an engaging story to solve the challenge presented. You don't need vide-editing or motion graphics experience to complete it. Submissions are due by or before Sunday, October 20 at 4:00 pm ET/1:00 pm PT.
Finale: Monday, October 21
4:00 pm ET–6:00 pm ET (1:00 pm PT–3:00 pm PT) Join the presentation and awards ceremony to find out if you've made it to the finale, present your work to the judges, get feedback from industry professionals, and if you win... go home with some serious gift card cred in your pocket.
=========================================
PRIZES
Prizes include gift cards for each member of the winning team in the amounts below, PLUS a one-year student subscription to Adobe Creative Cloud (worth up to $240 for the educational version).
First Place: $250.00 / team member
Second Place: $200.00 / team member
Third Place: $150.00 / team member
Fourth Place: $100.00 / team member
Fifth Place: $75.00 / team member
Sixth Place: $50.00 / team member
HOW TO REGISTER
Register with your college email address, and form a team of 2 or 3 people. Create a team password and invite others to join your team. Once registered, you'll receive details on how to prepare, what link to join, and more. See you at the Jam! Registration closes at 10am PT on October 18.
FINE PRINT
Registration is limited to students currently enrolled at a North American college campus in the United States or Canada. Registrants must register with their official campus email address in order to participate and win. Your responses and information are securely collected and stored by Adobe's registration provider, Eventbrite in accordance with Adobe's Privacy Policy. Read the Official Creative Jam rules. If you have any questions about registration, please contact the team at jams@adobe.com.