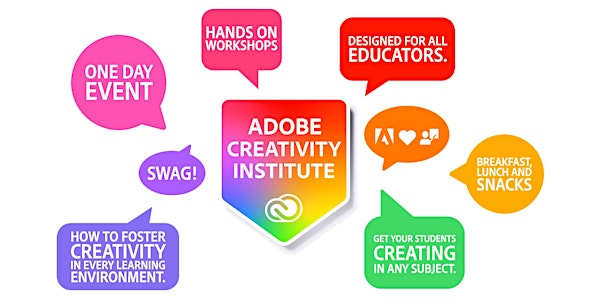 Adobe Creativity Institute - Southern California
Adobe For Education invites you to the creative learning event of the summer!
When and where
Location
Ladera Vista Junior High School of the Arts 1700 E Wilshire Ave Fullerton, CA 92831
About this event
We are very excited to invite you to the Adobe Creativity Institute. This experience has been created by teachers, coaches and trainers to provide hands-on learning opportunities designed to easily enhance instruction, empower learners, and foster creativity. This program is developed and presented by educational thought leaders and pedagogy-first instructors from across the country.
What you will learn.
Why teaching for creativity is important and possible across all subjects and age levels, and how to design learning experiences that foster creativity.
How to learn, and help students learn, creative tools that you can use with your students and embed into your curriculum.
How to curate resources designed by master teachers.
How to easily assess creative works and plan for a creative learning environment.
How to empower your fellow educators helping them create a culture of creativity in the classroom
What you will create.
You will learn to create graphics, videos, and websites using Adobe Creative Cloud Express.
An action plan to teach other educators and empower your learning community.
What you will receive.
You will walk away with your Level 1 & 2 Adobe Creative Educator Certifications.
You will learn about the free resources available on the Education Exchange
You will be invited to Adobe's exclusive Pilot Community online learning space (ACE Space).
You will have exclusive access to our resources for trainers.
Oh, and lets not forget, our exclusive swag kit (just for institute participants), and a yummy breakfast and lunch!