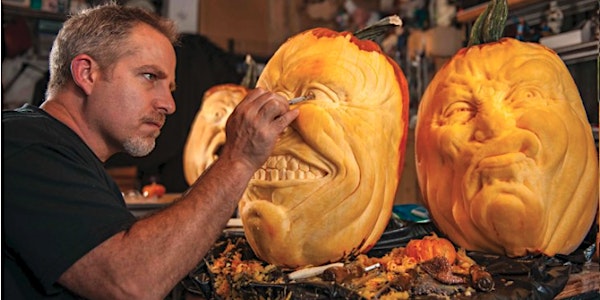 Adobe Analytics Champion Pumpkin Carving October 29th 10am - 12:30pm PST
Pumpkin Carving Experience with Halloween Wars Champion Jon Neill
About this event
It's not a shocker that Jon Neill carves spectacular pumpkins!
After receiving a BFA from the University of Kansas, Jon headed to Los Angeles to work for several years at the famous Stan Winston Studios Special effects company, creating practical creature effects for films like Michael Jackson's Ghosts music video and The Lost World: Jurassic Park. Fast forward 15 years later, creating Neill Art Studios, a developmental studio with a focus on movie props, toys and holiday related products. His work can be seen in more than 50 movies and television shows, such as Modern Family, Strange Angel, Pretty Little Liars and Life in Pieces.
Jon is the season 4 champion of Food Network's Halloween Wars. He also appeared on Cake Wars Christmas, Nickelodeon's Ultimate Costume Contest show, Disney's Freeform and YouTube. His pumpkins have been shared over the world and seen on shows like Access Hollywood, Jimmy Kimmel live and Home & Family.
During the Holiday season, Jon translates his sculpting skills, utilizing pumpkins, gourds, radishes, carrots, leeks, chocolate, cheese and butter, sculpting characters, likenesses, the scariest of monsters and jolliest of elves for some of Hollywood's top events. You may also spot him around the heart of the USA, turning mammoth sized pumpkins into masterpieces of art or see him on Food Network, YouTube or Instagram: jon_neill, showcasing his skills.