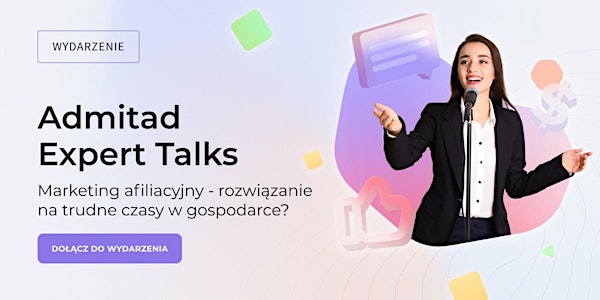 Admitad Expert Talks
Admitad Expert Talks. Marketing afiliacyjny - rozwiązanie na trudne czasy w gospodarce?
When and where
Location
ADN Centrum Konferencyjne 56 Grzybowska 00-844 Warszawa Poland
About this event
Admitad Expert Talks to darmowe wydarzenie, podczas którego poszerzysz wiedzę na temat marketingu afiliacyjnego i monetyzacji.
Admitad Expert Talks zostanie podzielone na dwie części: panel dyskusyjny z udziałem ekspertów z zakresu afiliacji, naszych wydawców i reklamodawców oraz sesję networkingu.
Chcesz dowiedzieć się, jak wykorzystać afiliację do realizacji swoich celów biznesowych? To wydarzenie jest dla Ciebie!
Chcesz dowiedzieć się więcej? Odwiedź naszą stronę dedykowaną wydarzeniu.
Harmonogram
16:00 Rozpoczęcie wydarzenia
16:30 Panel dyskusyjny
18:00 Sesja networkingu
21:00 Koniec wydarzenia
Panel dyskusyjny
Podczas panelu dyskusyjnego będziesz mieć okazję poznać ekspertów na co dzień zajmujących się marketingiem afiliacyjnym. Dowiesz się, jak dzięki afiliacji możesz zwiększyć sprzedaż czy rozwinąć biznes.
Prelegenci
Mateusz Łukianiuk, Country Manager, Admitad Polska
Od prawie 15 lat jestem związany z branżą e-commerce i afiliacji. Spędziłem ponad 7 lat w jednej z największych sieci marketingu afiliacyjnego — Awin, z czego 4 lata na stanowisku dyrektora zarządzającego na Europę Środkowo-Wschodnią. Przed dołączeniem do Admitad pracowałem w Ringier Axel Springer Polska jako dyrektor ds. e-commerce. Skończyłem Wyższą Szkołę Administracji Publicznej w Białymstoku i Akademię Leona Koźmińskiego.
Mateusz Gromadzki, Director of Business, Opera
Mam ponad 10 lat doświadczenia w zakresie sprzedaży, marketingu, działań reklamowych, zarządzania projektami, rozwoju biznesu z perspektywy pracy w sieciach afiliacyjnych specjalizujących się w produktach finansowych i ecommerce oraz wydawców internetowych. Obecnie odpowiadam za funkcjonowanie serwisu Dify Cashback w Polsce i Hiszpanii oraz zespołu AdOps, prowadzącego globalne działania reklamowe realizowane w przeglądarce Opera na komputery.
Janek Sikora, CEO, Plente
Mentor. Business Angel. Entrepreneur. Surfer.
Oficjalnie przyznaję, że nie ma rzeczy niemożliwych. Podchodzę do życia z pokorą, ale i wrodzoną nonszalancją, na którą sam zapracowałem. Żyję z kreowania świata w offline i online. Sprzedałbym niewidomemu okulary przeciwsłoneczne, a ten dzwoniłby, by usłyszeć, jak pięknie w nich wygląda.
Stworzyłem największą platformę cashbackową w tej części Europy zrzeszającą ponad milion użytkowników i obsługującą ponad 2000 klientów pod nazwą PLENTE ( dawniej Planet Plus ) generującą ponad 100 milionów euro obrotu rocznie.
W życiu kieruję się własną maksymą "Love Life", natomiast na scenie uwielbiam utrzymywać bliską relację z publicznością i porywać ich w głąb niekonwencjonalnie przeżytych historii by zarazić ich do przemyśleń i zmusić do działania.
Wkrótce ogłosimy kolejnych panelistów!
Rejestracja
Uczestnictwo w wydarzeniu jest bezpłatne. Liczba gości na wydarzeniu jest ograniczona, dlatego dostaniesz mailowe potwierdzenie uczestnictwa. Pamiętaj więc, by śledzić swoją skrzynkę odbiorczą i dodać Admitad na listę zaufanych odbiorców.
Lokalizacja
Wydarzenie odbędzie się w centrum konferencyjnym nowopowstałego centrum biznesowo-gastronomicznego Warszawy - Browarach Warszawskich.