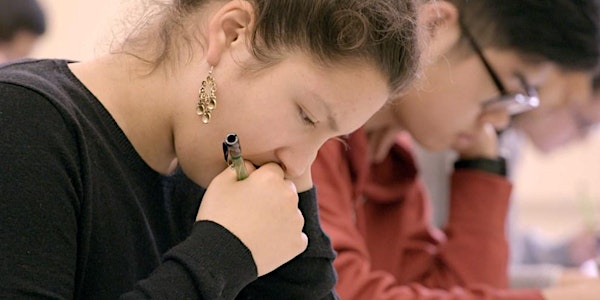 Admissions Hosts Panel and Viewing of "The Test and the Art of Thinking"
Location
David Straz, Room 105
Description
Greetings Marquette Colleague,
You are invited to join Undergraduate Admissions, MU faculty and staff for a special viewing of the The Test & The Art of Thinking, a documentary that traces the history and evolution of the SAT/ACT as a major player in higher education, and its current power in our culture. The film examines what the SAT/ACT measures and means, and asks a range of educational leaders, admissions professionals and test stakeholders—from tutors to parents to test designers—to grapple with the use, ramifications and future of the SAT/ACT.
After the viewing (film is 81 minutes long), a panel of experts will offer their reflections on the film followed by a Q&A with audience members:
Light refreshments will be served
Admission is free but space is limited.

Panelists:
Dr. Karen Evans – Clinical Associate Professor in Educational Policy and Leadership; Director of Assessment, College of Education, Marquette University
Dr. James Hoelzle - Associate Professor of Psychology, Marquette University
Annette Cleary - Director of College Counseling, Marquette University High School
Dr. John Baworowsky - Vice President of Enrollment Management, Marquette University
Here is a brief synopsis of the film:
For some students, it's the boogeyman standing between them and their dreams. For teachers, it could be a yardstick for which they should not be held responsible or it could be a validation of their success. Real estate professionals use SAT test scores to establish home values in upscale neighborhoods. When it comes to standardized testing, no one is neutral and no American student can escape it.
In a modern America increasingly balkanized by race, politics, socio-economic class and zip code, you would be hard-pressed to find an institution or experience that more people have in common. Almost all roads to adulthood for American teens run through the SAT or ACT. The very function of the SAT/ACT is to act as a common denominator used by the gatekeepers to higher education and therefore a professional future. Therein lies the responsibility and danger of this manufactured hurdle.
For questions related to this event, e-mail Brian Troyer, Dean of Admissions, at brian.troyer@marquette.edu