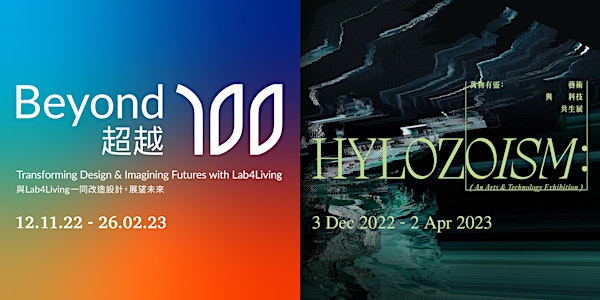 Admission - HKDI Gallery Exhibitions 2022-2023
Admission - "Arts Tech" &"Lab4Living" Exhibitions 「萬物有靈:藝術與科技共生展」及「超越100:與Lab4Living一同改造設計,展望未來 」展覽 | HKDI Gallery Exhibitions 2022-2023
When and where
Location
HKDI Gallery, Hong Kong Design Institute 3 King Ling Road Tseung Kwan O, NT Hong Kong
About this event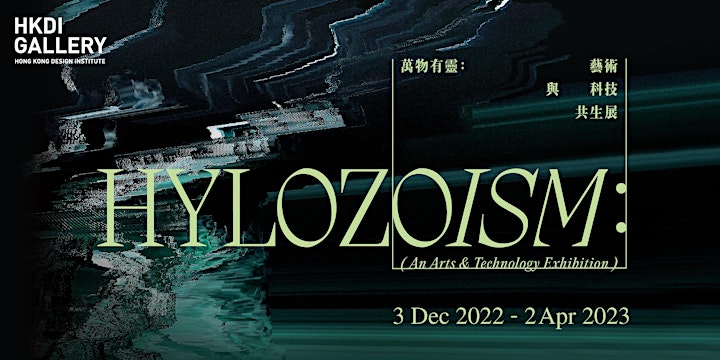 萬物有靈:藝術與科技共生展
Hylozoism: An Arts & Technology Exhibition
關於展覽
萬物有靈論,又稱為泛靈論,主張天地萬物都有靈性同生命,是哲學論說;當下萬物裡其中之一與人類密切相關的絕對是科技本身,如果這些科技都有生命,這樣的新自然當然不止山水花草,而是新生態。是次展覽聯通天地人三者的概念,在藝術與科技加持下叩問大自然在人與科技的干預下會發生什麼?由山水大地走到新種自然(Neo Nature),讓藝術與科技預測占卜近未來。是次展覽由策展人鄺佳玲及林欣傑策劃,出展的本地與國際藝術單位包括菲利浦.畢斯雷(Philip Beesley)、林欣傑、鮑藹倫、真鍋大度與坂本龍一、fuse* 團隊;五件作品、如五行運世,呈現新種自然之餘,提出共存的概念。如若萬物有靈,讓我們以藝術與科技砥礪前行,萬物共同進退。
About the Exhibition
Hylozoism, also known as animism, advocates that all things in the world possess a distinct spiritual essence. It is a philosophy indeed. As technology is undoubtedly one of the many things intertwined with human lives, such neo-nature is not only consisted of flowers and plants but orchestrates a new ecology. This exhibition demonstrates the connections between the world, the earth, and the people. What would the intervention of humans and technology do to nature in the context of arts and technology? From the picturesque landscape to the subject of neo-nature, arts and technology are instrumental in foretelling the near future. Curated by Ms. Joel Kwong and Mr. Keith Lam, the exhibition features an international and local artist lineup, includes Philip Beesley, Keith Lam, Ellen Pau, Ryuichi Sakamoto X Daito Manabe, and fuse*. Like the five elements, the five artworks in the exhibition present a neo-nature to propose the concept of symbiosis - like an endless cycle of mutual benefits and coexistence. In the belief of hylozoism, let us forge ahead with arts and technology as engines and fuel on with all matter through thick and thin.
03.12.2022 - 02.04.2023
HKDI Gallery at Hong Kong Design Institute
香港知專設計學院 HKDI Gallery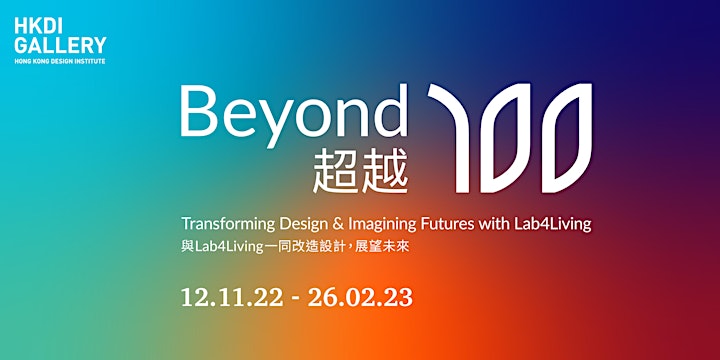 「超越100:與Lab4Living一同改造設計,展望未來 」展覽
"Beyond 100: Transforming design and imagining futures with Lab4Living" Exhibition
關於展覽
如果能活過一百歲,我們如何構想未來的生活?
面對當今社會、乃至未來日益複雜的難題,設計如何能夠適時回應?
「超越100:與Lab4Living一同改造設計,展望未來」展示了Lab4Living在設計研究上的方向,並以此作為「生活實驗室」(Living Lab)的延伸,探索、討論及挑戰關於設計、健康和公民參與的既有觀念。誠邀各位參觀者從公民責任角度出發,並利用啟發思考、突破陳規及高科技的設計,來回應社會不斷改變的環境和需要。
About this Exhibition
How do we envision our life to be if we live to 100 years old and beyond? How can design contribute to the increasingly complex challenges confronting our society today and the future? Beyond 100: Transforming Design and Imagining Futures with Lab4Living invites visitors to consider the civic responsibility, and inquisitive, provocative and technical qualities of design in response to society's evolving circumstances and needs.
Lab4Living's approach to design research is exemplified through this showcase, using the exhibition as an extension to our 'Living Lab' we expand our inquiries to explore, provoke, and challenge notions of design, health, and civic engagement. The key themes in this exhibition present the eclectic approaches, formats and directions undertaken by Lab4Living, and highlights the extraordinary potential of design and design research, in transforming our way of life to foster positive and lasting change in the contexts of health and wellbeing, enabling life, and supporting human flourishing.
About Lab4Living
Lab4Living is a trans-disciplinary research group based within Sheffield Hallam University, UK. Established in 2007, it is one of the longest-established living labs in Europe. The team brings expertise from art and design, allied health, science and the humanities to address real world issues that impact on health and wellbeing, developing products, services, interventions, and speculative projects to enable lives, and support human flourishing. Lab4living's work has spanned more than 150 research projects and has included collaborations in over 80 academic, hospital and community organisations in over 15 countries. It has also led and supported global development in design for health by launching the international Design4Health conferences in 2011. It also established a new international refereed journal, Design for Health with leading publisher Taylor & Francis.
12.11.2022 - 26.02.2023
Experience Centre at Hong Kong Design Institute
香港知專設計學院 Experience Centre
Special Precautionary Measures
Except for exempted persons, all visitors entering the HKDI Gallery and all other venues on the campus are required to wear masks at all times
From 17 November 2022, the Vaccine Pass requirement of the HKDI Gallery has been changed to "passive checking". Visitors will still need to comply with the vaccination requirements under the Vaccine Pass before entering the exhibition venue. Details on the Vaccine Pass arrangement announced by the Government can be found at the Centre for Health Protection's website.
Visitors are subject to a temperature check before admission. Visitors with fever symptoms will not be admitted.
The hygiene of the facilities will be strengthened. Regular disinfection of toilets, lifts, escalators, railings, buttons and all public areas of the exhibition venues and campus will be arranged. Sanitising mats and alcohol hand sanitisers will be provided. Enhanced cleansing in between sessions will be conducted.
For everyone's health and safety, capacity is limited, and an advance ticket is required for visitors. Reserve online and present your e-ticket at the entrance of the Hong Kong Design Institute (HKDI): https://hkdigallery_exhibition2223_admission.eventbrite.com. Maximum four tickets per registration.
Use our free hand sanitiser before admission, wash your hands frequently, and avoid touching your face.
Enjoy the exhibition and maintain social distancing throughout the gallery.
Children aged under 12 must be accompanied by an adult.
HKDI Gallery will review the situation and adjust relevant preventive measures as and when necessary. For more updated information, please go to www.hkdi.edu.hk/hkdi_gallery.
入場注意事項
除豁免人士外,進入HKDI Gallery及校園所有其他場所的訪客須全程佩戴口罩。
由2022年11月17日起,HKDI Gallery的「疫苗通行證」要求已改為「被動查核」,所有人士進入展覽館前須符合「疫苗通行證」的接種要求。有關政府公布的「疫苗通行證」詳情可參閱衞生防護中心網頁。
進入本館人士須接受測量體溫,若有發燒徵狀(等如或高於37.5°C),請勿進入HKDI Gallery。
我們將加強HKDI Gallery及校園設施清潔,並為洗手間、升降機、扶手電梯、樓梯扶手、按鍵及公用區域作定時消毒,展覽館將提供消毒地墊及酒精搓手液,並於每節參觀時段之間閉館進行清潔。
為保障每個人的健康,我們限制每日入場人次,如參觀展覽,請先到網站預約https://hkdigallery_exhibition2223_admission.eventbrite.com,入場請於香港知專設計學院閘口出示電子登記紀錄。 每次交易可登記最多四張門票。
進入本館人士須使用酒精搓手液。常洗手,避免觸摸面部。
欣賞展覽同時請保持社交距離。
十二歲以下之小童須由成人陪同入場。
HKDI Gallery會檢視情況,需要時將調整有關預防措施。如有查詢,請瀏覽網頁 www.hkdi.edu.hk/hkdi_gallery。