Description
"Admingling was so much fun! It was wrapped up in a nice little package … the food, laughter, networking and open forum—all covered in two short hours. I went in knowing no-one and came out feeling like I had known these Ninjas forever. It's nice to know what's going on outside the four walls we're in everyday. Connecting with other admins is priceless in so many ways!" - Dana L, Executive Assistant


Ready to join the fun? Visit the official website for more deets.
What's Admingling?!
Whoever said "It's not what you know, it's who you know" was, in our humble opinion, just a little bit off. We think both are equally important, so why the mutual exclusivity?

To blend the best of both, we started an ongoing event series called Admingling. Each Admingling event takes place in a community ripe with administrative talent (executive assistants, office managers, and admins). A few of those Office Ninjas not only attend the event—they also help put it on.

Each relaxed shindig revolves around a relevant Ninja topic—think increasing productivity, professional development, and workplace wellness. Of course, it wouldn't be an OfficeNinjas event without great food, tasty libations, and a quirky venue. That's the secret sauce to Admingling: blending the best of a networking event with authentic interactions and a slight party vibe.

Whether you come out with an admin crew or fly solo, we'll warm things up with a fun (no, really!) icebreaker before the Event Organizers dig into an interactive discussion.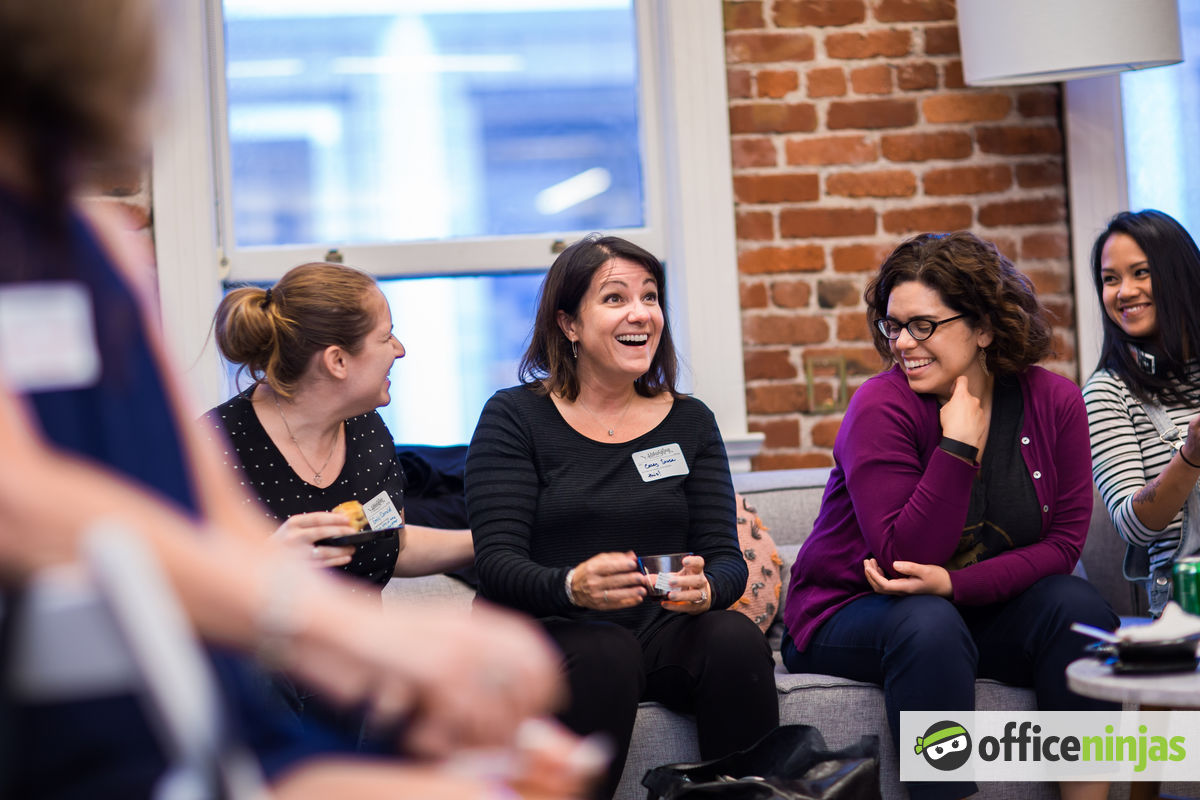 Who Should Attend?
All Office Ninjas! The term "Office Ninja" is broadly defined, which makes our community incredibly diverse and dynamic. Not sure if you're a Ninja? Well, we're talking about office managers, executive assistants, virtual assistants, operations managers, and even happiness coordinators. Our goal is to help Ninjas from all industries and backgrounds make the connections needed to continue to grow and soar in their fields.
IMPORTANT! This event is exclusively for career admins (e.g. office managers, executive assistants, admins, etc.). Each registration will be verified and all non-admin signups will be automatically refunded.
Interested in getting involved as a sponsor? If you think your product or service could truly benefit Ninjas–we want to hear from you. Apply to be an Admingling sponsor.
At #Admingling, you'll:
– Get to know your fellow Ninjas at a relaxed, mid-week meetup
– Talk-shop on topics that are important to you
– Enjoy great food and tasty libations at a quirky venue
– Nuggets of wisdom & takeaways to make you better at your job
Best of all—these events are for Office Ninjas only! But, you must register in order to attend.
Ready to join the fun? Visit the official website for more deets.