ADIDAS MAXIMUM EXPOSURE COMBINE & 7 VS 7 TEAM TRYOUT

Saturday, December 17, 2011 from 10:30 AM to 6:00 PM (PST)
Event Details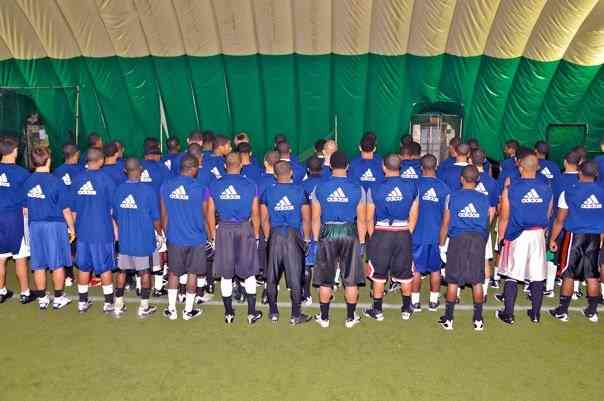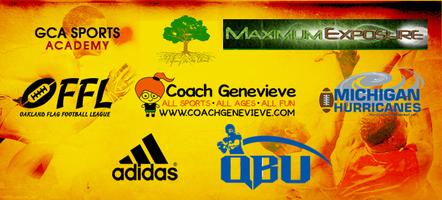 Combine Schedule
Youth Combine
10:00 am              Youth Check-In
11:00 am              Youth Warm-up
11:25 am              Youth position drills
12:30 pm              Youth Games
1:45 pm                Awards & Camp Wrap-up
High school combine
1:00 pm                High School Check-in.
1:00 pm                Recruiting Head Shots- Rivals.com, 247Sports, Scout.com
1:30 pm                Height/Weight Measurements
2:00 pm                Testing- 40 yd dash, 20 yd Short Shuttle, 3 cone drill, vertical, broad jump & bench press
3:30 pm                Position Testing
4:30 pm                1 vs 1 drills
5:45 pm                Award Presentations & Media Interviews
Adidas Maximum Exposure Preview




 

 



Last year, this early event in Detroit brought out a lot of eventual Division-1 talents, and this year should be more of the same. Here is a look.




Maximum Exposure has been helping kids across the state of Michigan with just that, "exposure" over the last few years and last Winter's early event proved to be the starting point for many youngsters who would go on to earn scholarship offers over the course of the next year.

This year, the event, sponsored by Adidas, has moved to the Pontiac Silverdome, the largest indoor football facility in the Midwest, and will feature speed testing, 7 on 7 tryouts, 1 on 1s and position specific training.

The cost in advance is only $30. Walk-ups are $40 and organizers say the will probably sell out.

Among the expected attendees is a good group of quarterbacks. Michigan commit Shane Morris is the top quarterback prospect in the state for 2013, Sturgis' Chance Stewart is poised to earn that spot in 2014, and Detroit Cass Tech freshman Jayru Campbell has an early line at that spot in the 2015 class after leading his team to a state title this year. Manchester's Nate Bossoryis a junior that has many Division-1 schools interested as well.

The defensive backs are a talented bunch as well. Detroit Cass Tech's Jourdan Lewis already holds a Division-1 offer (Toledo). His teammate, safety Delano Hill is possibly the best player in the state that no one talks about. Detroit Douglass' Demetrius Stinson is another that had a strong junior season, and Holland's versatile Corey Willis, who played all over the field this year, will be eager to show what he can do at receiver and corner. Detroit Crockett's Desmond King, a ballhawk with 16 interceptions in two seasons, rounds out the group.

The big guys will be out too. Canton's dominating Cameron Dillard will be in attendance along with Detroit Crockett's two-way star Jalen Dandridge, Detroit Country Day's athletic Poet Thomas, and Southfield's 6'5, 290-lb Colin Buchanan.

The linebacker group is lead by Luke Maclean, who holds a Buffalo offer, Grosse Pointe South's hard hitting Jack Doyle, and Farmington Hills Harrison's precocious sophomore Gary Hosey.

The running backs and receivers have a couple big names, including two Michigan legacy recruits, Southfield receiver Brandon Bean and Chelsea running back Berkley Edwards. Potentially the state's best sophomore, Farmington Hills Harrison's Lorenzo Collinsis also slated to be in attendance. Detroit Crockett junior tight end Khalid Hill is another Division-1 prospect that will be in the dome.

Register @ http://adidascombine.eventbrite.comor call 313-522-8876 for additional info.

Adidas Maximum Exposure Showcase

This Saturday, the Pontiac Silverdome, the former home of the Detroit Lions, will play host to the Adidas Maximum Exposure winter showcase.

Michigan QB commit Shane Morris showed off his big arm at last year's event.

Last year's event put current Warren De La Salle four-star quarterback and Michigan commit Shane Morris on the map, and the future Wolverine will be in attendance again.

Other top prospects that attended included Top247 receiver and Michigan State commit Aaron Burbridge, Top247 athlete and Cincinnati pledge Dennis Norfleet, his future Bearcats teammate Leviticus Payne, Michigan defensive end commit Mario Ojemudia, Iowa safety verbal Ruben Lile, fellow future Hawkeye Kevin Buford, Syracuse tight end commit Ronald Thompson, and Top247 junior linebacker Jon Reschke. None of the players listed held an offer before the event.

Morris isn't the only talented quarterback that will participate this year. Sturgis (Mich.) High sophomore Chance Stewart is on the roster, as is Detroit (Mich.) Cass Tech freshman Jayru Campbell, who helped lead his team to a state championship this fall.

One of the top athletes in the state in Holland's Corey Willis will work out, as will explosive running back Berkley Edwards of Chelsea (Mich.) High. One of the top players in the state in the class of 2014 in Farmington Hills (Mich.) Harrison running back/safety Lorenzo Collins will be on hand as well.

Reschke isn't the only defensive player attending this year with hype around him. Top247 cornerback Jourdan Lewis will be there, as will Grand Blanc (Mich.) High outside linebacker defensive end Luke Maclean.

Other prospects of note that are already garnering BCS interest includes Detroit Crockett defensive back Desmond King, Detroit Crockett tight end Khalid Hill, Detroit Country Day lineman Poet Thomas, Grosse Pointe South linebacker Jack Doyle, Detroit Douglass running back Demetrius Stinson and Manchester quarterback Nathan Bossory.

The camp will feature speed testing, 7-on-7 team tryout, 1-on-1 competition and position specific training. Arrive at 1p.m. and ends at 5:30pm.

Cost in advance is only $30. Walk-ups $40.
Register @ www.adidascombine.eventbrite.com
Call 313.522.8876
CALLING ALL  FOOTBALL PLAYERS!!!!!
THE ADIDAS MAXIMUM EXPOSURE COMBINE IS THE 1ST CAMP OF THE OFF-SEASON AND WILL PROVIDE TOP FOOTBALL PLAYERS IN MICHIGAN AN OPPORTUNITY TO GAIN EXPOSURE FOR THEMSELVES EARLY IN THE RECRUITING PROCESS!!!!!
LAST YEARS EVENT FEATURED OVER 40 DIVISION I FOOTBALL PLAYERS THAT DID NOT HAVE OFFERS BEFORE THE EVENT!
THIS YEARS EVENT WILL FEATURE OVER 300 YOUTH FOOTBALL PLAYERS AND 400 HIGH SCHOOL FOOTBALL PLAYERS.
 LOOK BELOW AT LAST YEARS TOP ATTENDEES!!!!!!!
Mario Ojemudia- MICHIGAN
Aaron Burbridge- MICHIGAN STATE
Shane Morris- MICHIGAN
Devin Funchess- MICHIGAN
Ron Thompson- SYRACUSE
James White- BOWLING GREEN
Ruben Lile- IOWA
Leviticus Payne- CINNCINATTI
Dennis Norfleet- CINNCINATTI
Devin Church- NORTHERN ILLINOIS
Kevin Buford- TOLEDO
Terry Richardson- MICHIGAN
William Rembert- BUFFALO
Brian Blackburn- TOLEDO
Tyler Goble- AKRON
Danny Larkins- TOLEDO
Gabe Sanders- BOWLING GREEN
Anthony Scarcelli- CENTRAL MICHIGAN
Hunter Matt- EASTERN MICHIGAN
When & Where

Silverdome
1200 Featherstone Rd
Pontiac, MI 48342-1938


Saturday, December 17, 2011 from 10:30 AM to 6:00 PM (PST)
Add to my calendar
Organizer
MAXIMUM EXPOSURE FOOTBALL
ADIDAS MAXIMUM EXPOSURE COMBINE & 7 VS 7 TEAM TRYOUT