Description
ADI Analytics cordially invites colleagues from oil and gas, energy, and chemical companies based in Madrid to join us for a complimentary breakfast briefing on Thursday, November 23, 2017 at the InterContinental Madrid Hotel.
Please e-mail us at info@adi-analytics.com for the access code to this event.
We look forward to seeing you!
---
Briefing Overview
The briefing will provide an overview of the global energy industry and discuss the outlook for oil, natural gas, LNG, transportation fuels, and power. Key topics that will be addressed include the following.
- Global analysis of crude oil supply, demand, and pricing including forecasts
- Regional analyses of natural gas and LNG supply, demand, and price with forecasts
- Review policy and regulatory drivers and impacts on transportation fuel demand
- Discuss state and outlook for coal- and natural gas-fired power and renewables
- Brainstorm strategic implications and outlook for oil and gas and energy companies

---
Agenda
9:00 AM - Introductions
9:15 AM - Presentation: A View of Global Energy Trends
10:15 AM - Question and answer session
11:00 AM - Briefing adjourns
---
About the presenter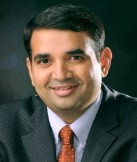 Uday Turaga is Founder & CEO of ADI Analytics. Through 19 years of industry experience gained at ExxonMobil, ConocoPhillips, Booz & Company, and ADI Analytics, Turaga brings deep commercial and technical expertise in oil and gas, coal, renewables, and chemicals. He specializes in corporate strategy, market research, economic analysis, competitive intelligence, and technology assessments with rich domain expertise spanning oil and gas exploration, production, and refining, coal and power, and chemicals.
Turaga holds a PhD in fuel science from Penn State and an MBA from the University of Texas at Austin. In addition to authoring over 100 papers and patents, he has been recognized by the U.S. National Academy of Engineering, the American Chemical Society, and the Penn State Alumni Association. Finally, Turaga has been featured in the Wall Street Journal, National Public Radio, and Bloomberg, and is a frequent speaker on energy issues at conferences and events globally.