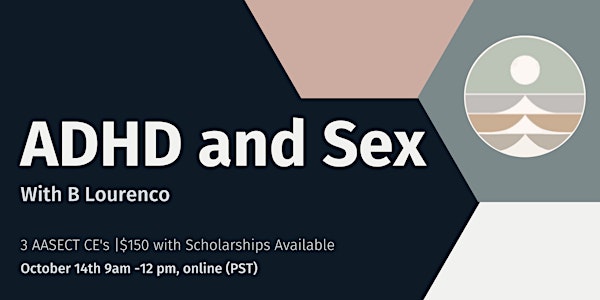 ADHD and Sexuality
The course focuses on the specific components of ADHD that may impact sex and relationships for both the ADHDer and their loved ones.
Refund Policy
Contact the organizer to request a refund.
Eventbrite's fee is nonrefundable.
About this event
Taught by a person with lived experience, B Lourenco is a licensed mental health counselor and CE presenter on topics pertaining to both Neurodiversity and Sexuality. B's passion is to help people live lives that are as full of joy and pleasure as possible while working to achieve the goals that matter most to them. B Lourenco is committed to anti-oppression work and has been active in social system change for 15+ years, in addition to working as an LMHC since 2015.
Many mental health clinicians have been taught that ADHD is confounding and difficult to spot and "treat." While it is true that many people go a long time without being identified as an ADHDer, the main source of the problem is misinformation about what it is and how it may show up in our offices. This workshop will begin by outlining how ADHD can look and feel when we operate from the Neurodiversity Affirming model instead of the medical model we have taught for many years.
The course will then focus on the specific components of ADHD that may impact sex and relationships for both the ADHDer and their loved ones. From sensory differences to difficulty with attention and focus to emotional regulation differences, ADHD may present several concerns that impact their sexual and intimate relationships. This workshop will outline several ways ADHD may affect sexual experiences and will offer tools for better supporting neurodivergent clients. All tools and interventions offered will be from an anti-ableist and anti-oppression viewpoint and in service of highlighting the strengths of the ADHD experience.
Objectives:
By the end of the workshop, participants will be able to:
1. Define and describe ADHD from a Neurodiversity Affirming lens (CKA: B & C)
2. Identify ways that ADHD impacts sexuality and relationships (CKA: F, H & I)
3. Illustrate ways that they can support ADHD clients in sex-positive, anti-oppression-based ways (CKA: A, E, & J)
This course is open to all educators, counselors, and therapists.
Purchase Tickets: https://www.exploretock.com/pnwsextherapycollective
Contact Renee at info@pnwsextherapycollective for scholarship options.