ADF Talks Brexit: Brexit and the Arts (pt 2) at National Theatre
Description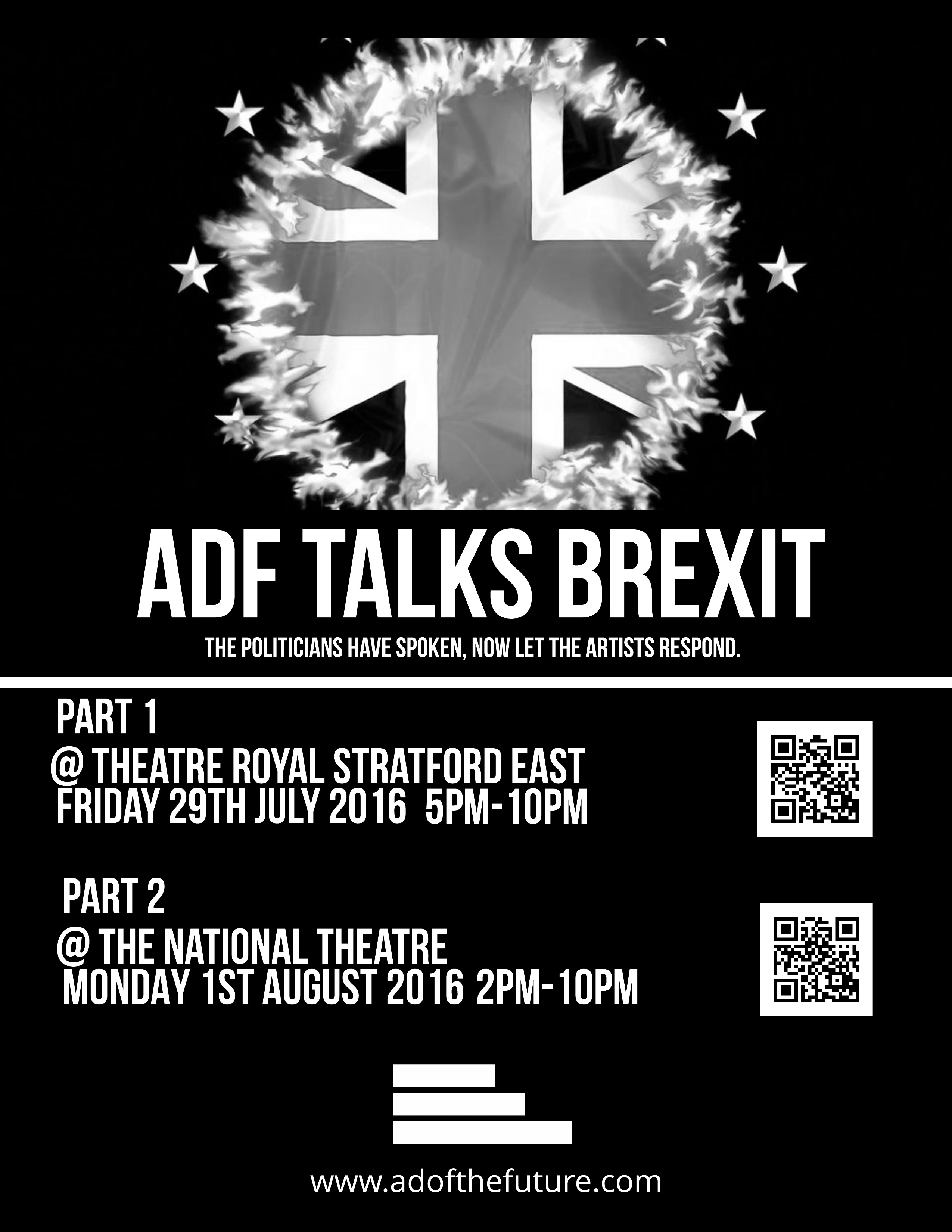 What does Brexit mean to BAME Londoners? What does it mean to BAME artists in London? It scares us, but it won't stop us. The politicians have spoken, now let the artists respond.
Artistic Directors of the Future (ADF) present ADF Talks Brexit an artistic response to the recent controversial EU referendum results. This two day event will feature new writing by the brightest of today's BAME talent, directed by resident ADF directors, panel discussions with artistic and academic leaders, film screenings as well as an exhibition, all ultimately asking: Brexit Britain: Where do we go from here?
Staged in two contrasting yet dynamic parts of the city, both with a rich theatrical and cultural legacy, we will investigate the question from two different perspectives. The second ADF Talks Brexit event entitled 'Brexit and the Arts' will take place at National Theatre on Monday 1 August 2016 from 2pm - 10pm. This event includes short film screenings, panel discussions on Arts & Education and Vision for the Future, as well as performances of plays written by ground-breaking BAME writers.
Please note. *The first ADF Talks Brexit will take place at Theatre Royal Stratford East on Friday 29 July, from 5-10pm, exploring Brexit Britain and the Community, with a verbatim scratch performance inspired by real post-Brexit stories, art installation, film screenings, panel discussion with industry professionals on indentity and Britishness and live music.
*Brexit and the Community and Brexit and the Arts are separate events and are ticketed individually.
ADF hopes that by providing a safe space for many voices to be heard, it will empower others to engage in the discussion and encourage a collaborative approach to change.
Tickets are only £5. Book now to avoid disappointment.
(For tickets to Part 1 please click here)

About ADF
Artistic Directors of the Future is the UK's first organisation dedicated to creating change at leadership level in mainstream theatres. We work with a wide range of culturally diverse directors at varying levels of experience to inspire, prepare, support and empower the next generation of artistic leaders giving them the leverage they need to progress to the next step. By working in collaboration with the theatre industry, academia and numerous leading producing theatres located nationally and internationally, we deliver a bespoke development programme, generate access to positions of authority and cultivate artistic opportunities.
We curently do not receive any public funding, therefore any donations to support our organisation would be greatly appreciated by ADF and our 350+ members.