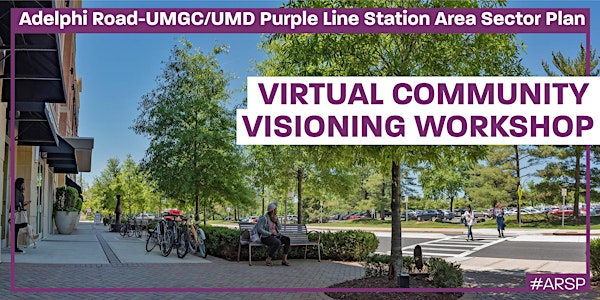 Adelphi Road - UMGC/UMD Purple Line Station Area Visioning Workshop
Adelphi Road-UMGC/UMD Purple Line Station Area Sector Plan: Virtual Community Visioning Workshop
About this event
Join us as we shape and create a vision for the Adelphi Road Sector Plan area.
This workshop will help us create the vision with your community, so do not miss this opportunity to participate. This workshop will include interactive virtual whiteboard exercises, online polling, and virtual breakout rooms, including breakout rooms for Spanish speakers. Your input is very important!
Virtual Community Visioning Workshop
Thursday, April 15, 2021
7:00 p.m. to 8:30 p.m. ET
Online - Microsoft Teams Virtual Meeting (Recorded Discussion):  Details to access the virtual meeting will be emailed to you prior to the event. PLEASE do not forget to check your inbox or spam folder for meeting details.
This meeting will include enhanced features, including breakout rooms. For the best possible experience, download the Microsoft Teams App to your computer, tablet, or smartphone to join the meeting. Also, please access the meeting by one of the following web browsers only: Google Chrome or Microsoft Edge. DO NOT use Safari, Opera, or Mozilla Firefox. If you encounter any issues accessing the breakout rooms during the meeting, staff will be available to assist you as needed.
Registration will close at 12 noon, Wednesday, April 15, 2021
Microsoft Teams Meeting Participation Instructions
Please check out our project webpage for additional information and updates about the project and this event - https://bit.ly/ARPLSSP. Email the project team for sharing ideas or concerns: ARSP@ppd.mncppc.org
NOTE: This virtual workshop will be presented verbally in English with Spanish captions. Presentation materials will be available in both English and Spanish. We will also be using online polling questions and virtual breakout rooms, including one for Spanish speakers.
_____________________________________________________________________________________________
Special Assistance: M-NCPPC encourages the participation of persons with disabilities and the need for language interpretation in all of its programs and services. For special assistance, call the Public Affairs Office at 301-952-4584.
_____________________________________________________________________________________________
EN ESPAÑOL
¡Únase a nosotros mientras damos forma y creamos una visión para el área del Plan Sectorial de la Calle Adelphi!
SOBRE ESTE EVENTO
Este taller nos ayudará a crear la visión con su comunidad, así que no pierda esta oportunidad de participar. Este taller incluirá ejercicios de pizarra interactiva virtual, preguntas para votar en línea y sesiones en grupo virtuales incluidas sesiones para los que hablan español. ¡Tu opinión es muy importante!
Jueves, 15 de abril de 2021
7:00 p.m. a 8:30 p.m. ET
En línea: Reunión virtual de Microsoft Teams: se le proporcionarán los detalles para acceder a la reunión virtual antes del evento. POR FAVOR, no olvide revisar su correo para conocer los detalles de la reunión. Esta reunión incluirá funciones mejoradas, incluidas sesiones en grupo. Para obtener la mejor experiencia posible, descargue la aplicación Microsoft Teams en su computadora, tableta o teléfono inteligente para unirse a la reunión. Además, acceda a la reunión únicamente mediante uno de los siguientes navegadores web: Google Chrome o Microsoft Edge. NO use Safari, Opera o Mozilla Firefox. Si tiene algún problema para acceder a las sesiones en grupo durante la reunión, el personal estará disponible para ayudarlo según sea necesario.
La inscripción se cerrará a las 12 del mediodía del miércoles 15 de abril de 2021.
Instrucciones de participación en reuniones de Microsoft Teams
Escríbanos al correo electrónico: ARSP@ppd.mncppc.org
Por favor, visite nuestra página de internet para más información y actualizaciones sobre el proyecto y este evento - https://bit.ly/ARPLSSP
NOTA: Este taller virtual se presentará verbalmente en inglés con subtítulos en español. Los materiales de la presentación estarán disponibles tanto en inglés como en español. También estaremos usando preguntas para votar en línea y sesiones en grupo, incluyendo una para quienes hablan español.
_______________________________________________________________________________________________
Asistencia especial: M-NCPPC fomenta la participación de personas con discapacidades y la necesidad de interpretación de idiomas en todos sus programas y servicios. Para asistencia especial, llame a la Oficina de Asuntos Públicos al 301-952-4584.