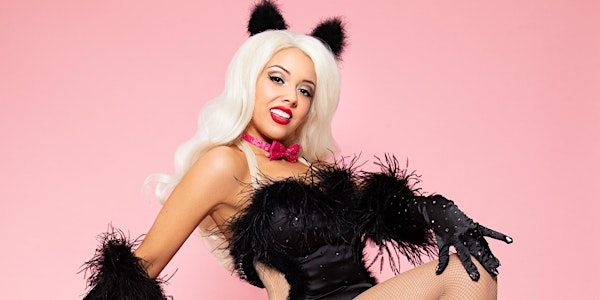 Adèle Wolf's 11th Annual Halloween Spectacular
Celebrate Halloween with a world-class, Vegas style burlesque and variety revue!
When and where
Location
The Auditorium at The Douglass 600 North High Avenue Oklahoma City, OK 73117
About this event
Celebrate Halloween with the World's Top Burlesque & Variety Entertainers!
You don't have to go to Vegas to see a world-class revue! Each Adèle Wolf Production features a star studded local cast with guest appearances by award-winning and international acts. Our rotating guest cast has featured entertainers from Absinthe Las Vegas, Crazy Horse Paris, Dita Von Teese tours, the Burlesque Hall of Fame, and more! See for yourself how our company became an award-winning, internationally recognized, industry innovator through creating Oklahoma's largest scale, professional variety revues.
Adèle Wolf Productions is going bigger than ever for our 11th season! We'll be celebrating Halloween with unforgettable themed performances and you're guaranteed to experience something you'd never imagine; whether it's a 10' Vegas showgirl costumed as a tree, or a rhinestone cowgirl with an aerial saddle (features from last year's event)! In addition to a bigger stage show, we're expanding programming this year to feature a full carnival with themed cocktails, decor, vendors, activities, and ambient entertainment!
Doors: 7:00 PM | Show: 8:00 PM
Performances by:
Adèle Wolf - Oklahoma City, OK
Deonna Marie - Oklahoma City, OK
Ivory Fox - (Bubbles from Marvelous Mrs.Maisel) - New York City, NY
Jessabelle Thunder (Featured in Dita Von Teese show) - Los Angeles, CA
Nick Hodge (From Opium Las Vegas) - Las Vegas, NV
Oliver Noor - Oklahoma City, OK
Raven Rose - Tulsa, OK
Vendors & Activities:
Tarot by Deonna Marie
More TBA!
General Info:
- 18+ to Enter
- Lineup subject to change
- Show Format: This show is presented as a full theatre revue. There will be an Act I and Act II with an intermission.
- Ticket prices increase $5 each on show day, so get yours in advance!
Costume Policy:
- No prop weapons
- No accessories that could obstruct the view for other patrons (for instance large hats/hair pieces) However, these may be worn during the contest as long as they can be removed while watching the performances.
- No offensive or culturally appropriative costumes. For example dressing as another race, Día de los Muertos, Native American headdresses, victims of violence, nazi symbols, anything that discriminates against or mocks minorities, etc. If you have questions on this, email booking@adelewolf.com
- Those with costumes in violation of the dress code will asked to change or be refused entry without refund.