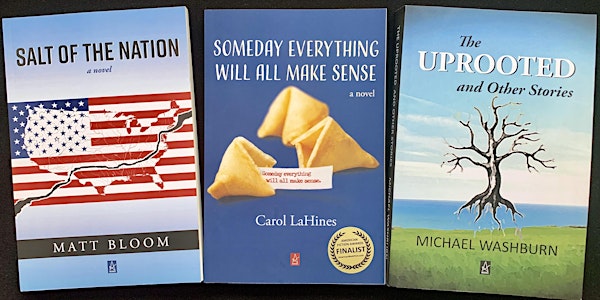 Adelaide Books Author Event with Matt Bloom, Carol LaHines & Michael Washburn
When and where
Location
Poets House 10 River Terrace Elizabeth Kray Hall New York, NY 10282
Description
Join NYC-based authors Matt Bloom, Carol LaHines, and Michael Washburn at Poets House for readings from their new books published this year by Adelaide Books. Readings will be followed by a Q&A session and signings. Wine and soft refreshments provided.
Matt Bloom's SALT OF THE NATION (2019) is the story of a disillusioned gravel plant worker who impulsively slugs the Republican presidential nominee during a campaign photo-op and instantly becomes America's most famous fugitive and newest hero. SALT OF THE NATION is more than a road story; it's a novel about a land riven by broken promises, thwarted dreams, and populism gone awry. It's the story of contemporary America equally divided and galvanized by an ordinary man's rash act and desperate journey. www.mattbloom.com
Carol LaHines's SOMEDAY EVERYTHING WILL ALL MAKE SENSE (2019. Finalist in this year's American Fiction Awards) is "an original and very funny novel about a man's obsessive longing and guilt after his mother accidentally chokes on wonton soup. We follow the endearing protagonist through a period of mourning, cleverly interwoven with musical theory and an attempt to sue the Chinese take-out restaurant, all brought to a hilarious finale with a last symposium on medieval music." Sheila Kohler, author. www.carollahines.com
Michael Washburn's THE UPROOTED AND OTHER STORIES (2018) is a collection of short stories about the theme of "uprooted-ness" reflecting our fractured world. These tales depict the adventures and trials of people unsure of their place in the world and desperate for a sense of belonging. Here are consistently surprising stories of incomparable power. Discover more on Michael here.
This event is made possible through Poets House's Literary Program.