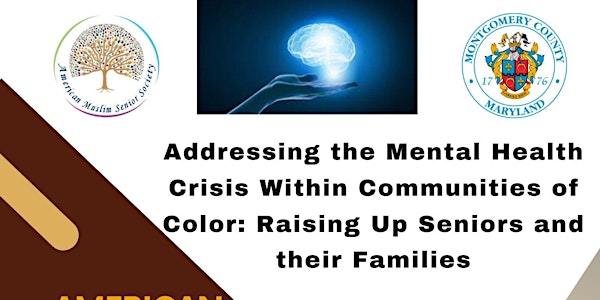 Addressing the Mental Health Crisis Within Communities of Color
Addressing the Mental Health Crisis Within Communities of Color: Raising Up Seniors and their Families ( AMSS 5th Anniversary Annual Event)
When and where
Location
Wheaton Recreation Center 11701 Georgia Avenue Silver Spring, MD 20902
About this event
The American Muslim Senior Society (AMSS) is pleased to announce its First Mental Health Summit, Addressing the Mental Health Crisis Within Communities of Color: Raising Up Seniors and Their Families. Sunday, December 4, 2022.
The event represents the culmination of three years of AMSS virtual community dialogues and engagements to identify the key issues of concern for older members of communities of color with health disparities. Mental health is ranked as a top priority.
The summit will bring together mental health experts, policymakers, researchers, interfaith community leaders, and service providers to respond to previously identified mental health concerns and to create a collaborative strategic action plan for 2023.
The summit will address the following areas: education and training; access to mental health care; best practices; and legislative and funding of mental health programs and services as they impact communities of color, especially seniors.
Summit Speakers and Expert Panelist:
Honorable: Marc Elrich (County Executive)
Council-member At Large Gabe Albornoz, County Council President
Keynote Speaker: Dr. Raymond Crowel / Director, Department of Health and Human Services, Montgomery County, MD
Panelist
Leslie Graham, CEO, President and Chief Executive Officer, Primary Care Coalition-
2- Dr. Rolando Luis Santiago, PhD, CFREChief, Behavioral Health and Crisis Services at Montgomery County Government
3- Council-member At Large Gabe Albornoz, Council President, Montgomery County
4- Dr. Sahar Khamis (PhD) Associate Professor of Communication and an Affiliate Faculty in the Consortium on Race, Gender, and Ethnicity at the University of Maryland, College Park.
AMSS hope to see you all, your input is valuable, we can't wait to learn from you!
Should you have any questions please contact us at: info@amssmd.org