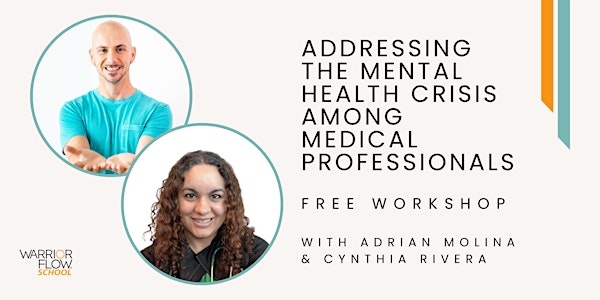 Addressing the Mental Health Crisis among Medical Professionals
Discover how to yoga & mindfulness practices to address the mental health crisis among medical professionals
About this event
Join Adrian Molina - founder of the Warrior Flow School - and Cynthia RiveraInfectious Disease Specialist, M.D.- for an online workshop on how to yoga & mindfulness practices to address the mental health crisis among medical professionals.
Open to first responders, doctors, nurses, mental health professionals and anyone interested in the topic.
In this 1h talk, we will cover:
Exceptional stress levels for medical professionals,
Symptoms of burnout,
Suicide rates amongst medical professionals,
Mental health matters,
Resilience building strategies,
Yoga, Mindfulness and Contemplative practices.
We will finish with a Q&A session.
Follow us on social media:
----------
Disclaimer:
The workshop will be done via Zoom, and the recording will be sent to you via email after the session. This is an introduction to mindfulness, the workshop by itself does not qualify participants to be yoga teachers, mindfulness teachers, trauma-informed yoga teachers, or trauma-therapists. Instead, the workshop seeks to raise awareness on the benefits of mindfulness for caregivers and to provide knowledge and skills to enhance the existing skills of caregivers and yoga teachers within their existing scope of practice.
Prerequisite:
No yoga experience is required to attend this workshop, just an interest in working with the body in a trauma-informed way within your practice.