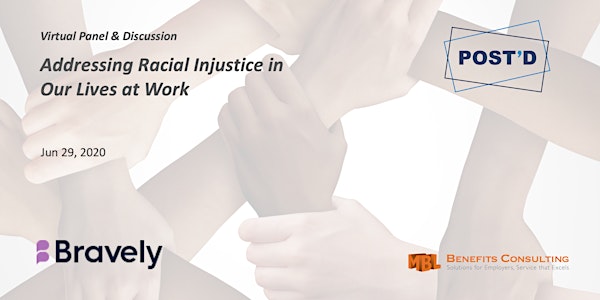 Addressing Racial Injustice in Our Lives at Work
Join us for a virtual panel on the roles and responsibilities of HR with respect to combat racism and ensure an inclusive workplace.
By Post'd People + Bravely + MBL Benefits
Date and time
Monday, June 29, 2020 · 8 - 9am PDT
About this event
As continued racial injustice awakens protests around the country, leaders must not lose sight of the impacts these events are having on Black people in the workplace. Join Bravely Pros Dion Bullock, Hakemia Jackson, Kimberly Macon, and Sarah Sheehan for a conversation about what companies need to be doing now and always to meet their responsibility of supporting Black employees.
Our panelists will discuss:
— How HR leaders and managers can create spaces for Black colleagues and better understand their experience in the workplace
— What companies can do to foster meaningful and active allyship for Black communities on their teams
— How to keep the conversation about racial justice, and support channels for Black employees, through this time of national outrage and beyond
____________
About Sarah Sheehan:
Sarah Sheehan is the Co-Founder and President of Bravely. Her diverse background in HR and as a sales leader made her passionate about helping companies build healthy cultures. Prior to Bravely, Sarah was an executive at Gilt City, serving as the Head of Sales and leading a 65-person sales team, after spending over a decade working in various HR roles at at SiriusXM, Coach, and Gilt Groupe.
About Bravely (www.workbravely.com):
Bravely connects employees to on-demand professional coaching in the key moments that define the employee experience, making it possible for companies to foster a culture that attracts and retains talent.
By scaling equitable access to confidential guidance and timely skill development, Bravely empowers employees at every level to do their best work and thrive in their roles.
About the Post'd People Group:
‍The Post'd People Group is a national HR network founded by a group of women who have built their careers in people operations. The group meets over casual dinners or breakfasts to discuss timely and relevant industry topics. www.keepmepostd.com #postdpeople #humansfirst #comingtogether